Iran
Iraq
Middle East
Iraqi Hezbollah Continue Aiding Flooded People in Iran
Al-Nujaba Movement, one of the Iraqi popular forces, visited the two provinces of Lorestan and Ilam in Western Iran to help the reconstruction and relief efforts after the recent flooding in the region.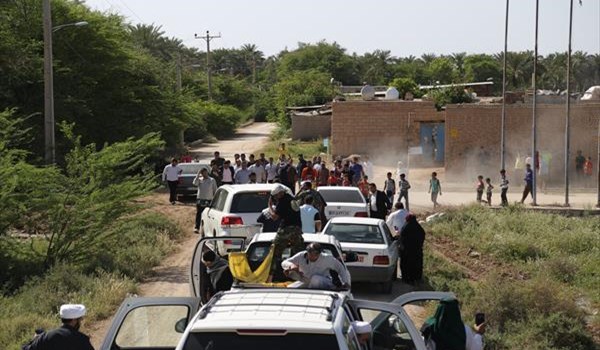 Al-Nujaba volunteers distributed aid packages and necessary goods among the people damaged by the floods in the two towns of Sirvan and Kouhdasht in the two provinces of Ilam and Lorestan respectively.
They also traveled to the nearly-drowned villages of Cham Shir, Cham Routeh and Dar Balout near Sirvan, in cooperation with the Islamic Revolution Guards Corps (IRGC), to aid people.
Another group of al-Nujaba also transferred aid packages to Kouhdasht in Lorestan province.
Last Monday, convoys of Iraq's al-Nujaba Movement, consisting of 100 light and heavy vehicles containing humanitarian aid, arrived in Khuzestan province in Southwestern Iran to help the reconstruction and relief efforts after the recent flooding in the region.
Two convoys comprising aid collected by the Iraqi popular group arrived in Khuzestan province, which then rushed to al-Qadir region in Northwestern Ahwaz near Ahwaz-Andimeshk road to build a water wall to prevent inundation of the city.
Al-Nujaba movement also dispatched its volunteer forces to different regions near Ahwaz and Hamidiyeh cities, including the villages of Halaf and Malihan, to provide flooded people with foodstuff and other humanitarian aid.
Unprecedented rainfalls since March 19 triggered disastrous floods in Iran. The tragedy started in the four Northern provinces of Mazandaran, Golestan, Semnan and North Khorassan on March 20. Thirty provinces of Iran have been hit by severe weather conditions since then.
Earlier this month, the Iranian Red Crescent Society (IRCS) announced that Tehran had not been able to receive any foreign financial aid because of Washington's "inhuman" sanctions against the country.
"No foreign cash donation has been made to the Iranian Red Crescent Society yet and basically there are no financial channels available to do this," the IRCS said in a statement on April 7.
"Some institutions and countries have expressed their readiness to donate and also declared certain sums of money; but as a result of the inhuman US sanctions, there is no way to send this cash assistance" to Iran, the statement added.
The IRCS emphasized in another part of its statement that despite US officials' claims, Washington's sanctions have caused difficulties in the way of helping people affected by flooding and influenced logistical capacities, particularly air relief.
The IRCS has not been able to buy new aid helicopters due to the unilateral sanctions imposed by the US and is also facing difficulties for buying spare parts to maintain its existing aid helicopter fleet, the statement added.
Official accounts are confirming that so far 76 lives have been claimed by the recent floods in Iran, while hundreds of thousands have been left homeless.