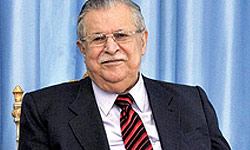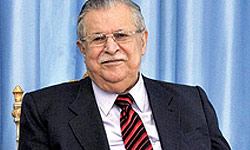 Iraq's Patriotic Union of Kurdistan (PUK) on Saturday appreciated Iran's all-out support for President Jalal Talabani's medical treatment after Iraq's Kurdish president was hospitalized for aggravating health conditions last week.
"The PUK and the Kurdish nation are honored to have received valuable messages from all the high-ranking officials of the Islamic Republic of Iran in the early hours after the Iraqi president was hospitalized," a PUK statement said.
The PUK thanked all the senior Iranian officials, specially President Mahmoud Ahmadinejad, Parliament Speaker Ali Larijani, and Foreign Minister Ali Akbar Salehi, for their messages and support for President Talabani.
The statement recounted Iran's all-out support and said, "Since the early hours of the president's weakness, the Islamic Republic of Iran voiced its readiness in all areas and also sent its medical team to Baghdad."
President Talabani was transferred to a Baghdad hospital on Monday after he suffered stroke. He was transferred to Germany for further medical treatment on Thursday.