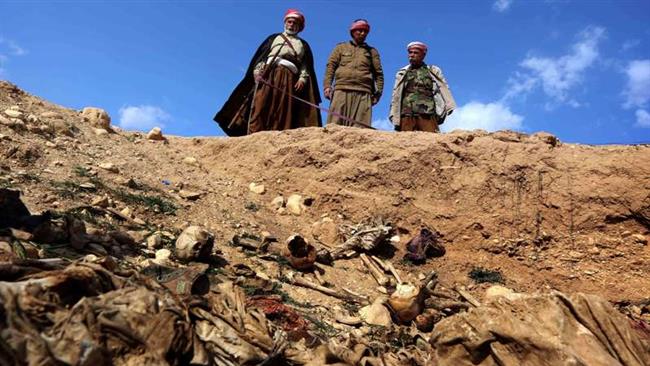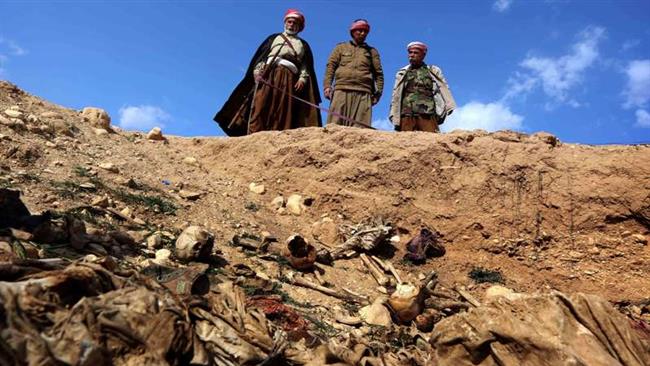 A mass grave containing the bodies of dozens of Izadi Kurds murdered by Takfiri Daesh terrorists has been discovered in northern Iraq.
Located near the newly-liberated Iraqi town of Sinjar, the mass grave contains the bodies of up to 60 Izadi men, women and children, Sinjar's director of intelligence Qasim Samir said on Sunday.
Detailed information about the grave is unavailable now because the surrounding area is believed to be filled with homemade bombs, preventing investigators from reaching it, Samir said.
This is the second mass grave uncovered by Kurdish Peshmerga fighters near Sinjar in the past three days.
On Saturday, they found another mass grave, which contained the remains of 78 Izadi women aged between 40 and 80 killed by Daesh. Some young Izadi women who had witnessed the executions and later escaped from Daesh's captivity said the terrorist group had forced them into sexual slavery.
Daesh terrorists had captured Sinjar in August last year.
However, Iraqi Peshmerga forces and Izadi fighters launched a ground operation last Thursday to push the Takfiris out of Sinjar, which is situated over 400 kilometers (250 miles) northwest of the capital, Baghdad.
President of Iraq's Kurdistan Regional Government (KRG) Massoud Barzani announced on Friday that the town had been fully liberated.
Following the town's liberation, Iraqi Kurdish forces started to clear bombs planted by the extremists in Sinjar, so that Izadis could return to their homes.
The northern and western parts of Iraq have been plagued by violence ever since Daesh began its terror activities through the Iraqi territory in June 2014. Army soldiers and Popular Mobilization units have joined forces and are seeking to take back militant-held regions in joint operations.