Iraq
Middle East
Turkey
Iraqi lawmaker slams Turkey's plan to create buffer zone in northern Iraq
A senior Iraqi legislator has denounced the ongoing Turkish cross-border offensive in the country's semi-autonomous Kurdistan region against hideouts of the Kurdistan Workers' Party (PKK) militant group, saying Ankara plans to create a buffer zone in northern Iraq similar to the one already established in the northern part of Syria.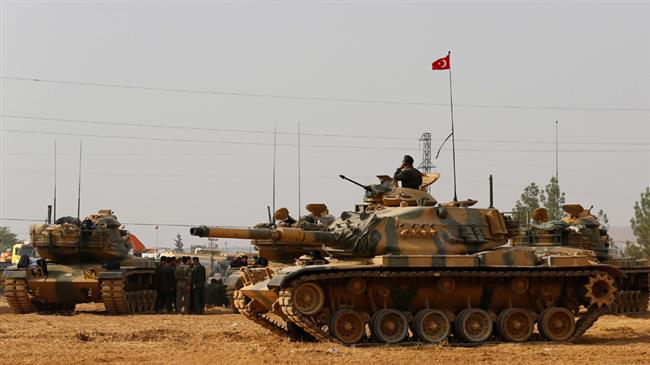 The leader of the Fatah (Conquest) Alliance, Hadi al-Amiri, on Monday criticized the Baghdad government's silence and inaction in the face of Turkish incursion into Iraqi territory, and called for lawsuits to be filed at the Arab League, the Organization of Islamic Cooperation as well as international tribunals against the move, Arabic-language Baghdad Today news agency reported.
"We are following with great concern the all-out Turkish invasion of northern Iraq, which is unacceptable under any pretext. There is no international justification or any legal excuse for it, given that the offensive differs from all previous operations in terms of cross-border incursion and duration," Amiri said in a statement.
He added that Turkish forces are heavily deployed along an area stretching some 25 kilometers (15.5 miles) south of the frontier.
"This is … indicative of Turkey's attempts to impose a fait accompli and create a buffer zone similar to the one in northern Syria. Hence we are against such a scheme," Amiri said.
The senior Iraqi lawmaker then called upon the Turkish government to immediately withdraw its forces from northern Iraq, saying, "These hostile actions are not in best interests of both countries as they have extensive historical, religious and fraternal ties in addition to strong economic relations."
He noted, "We urge the Iraqi government to break its silence and take all appropriate diplomatic and political measures to end these recurrent attacks, and to raise the issue at the Arab League, the Organization of Islamic Cooperation (OIC) and other international forums." He also demanded that "Iraqis from all walks of life take a united stance to safeguard the country's sovereignty and end such abuses."
The Turkish military started its ground campaign, dubbed Claw-Tiger Operation, against PKK positions in northern Iraq on July 17. Claw-Eagle Operation, the air campaign, had begun two days earlier.
Turkish ground and air forces frequently carry out operations against PKK positions in the country as well as in northern Iraq and neighboring Syria.