Iraq
Middle East
Syria
Iraqi MP Warns: US Arming Tribal Forces in Province Bordering Syria
The White House is after disintegrating Iraq with arming the tribes of the Arab country in Western regions bordered with Syria, an Iraqi Member of Parliament (MP) warned.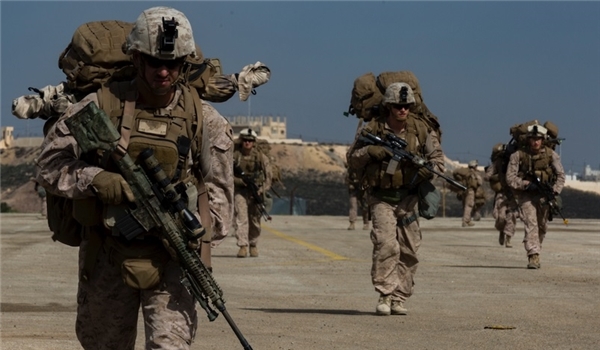 "Iraq does not need US arming its tribes in al-Anbar Governorate, and this move of Washington is just aimed at disintegrating the [Arab] country," said Hanin al-Qado, a member of the Fatah Alliance in Iraq's parliament on Sunday, in an interview with Baghdad al-Youm, an Iraqi news outlet.
"The Iraqi government is stronger than ever. We neither need the arming of tribes outside the framework of the establishment, nor entering the country into an arms anarchy," the Iraqi lawmaker underscored.
"What we need is to arm Iraqi security forces with advanced weapons and equipment," he said, commenting on why some figures have called on the US-led coalition to arm tribes.
Last month, the tribal leaders in al-Anbar province revealed that the US has increased its attempts to arm the Iraqi tribes under the pretext of preparing them for fight against terrorism.
The tribal leaders told the Arabic-language al-Arabi al-Jadid news website on May 19 that recently a meeting was held between the US commanders and tribal leaders in Ein al-Assad airbase in al-Anbar in which the Americans vowed to arm the Iraqi tribes.
Meantime, Sa'ad al-Matlabi, a member of Baghdad's governor office council said that arming the tribes in provinces adjacent to Baghdad, including al-Anbar, will force Iraq back to the era of "tribal militants".
He added that if the tribes want to fight terrorism, they can join the official Iraqi Armed Forces.
Relevant reports in April said that US Chargé d'affaires in Baghdad Joey Hood had been attempting to coax the tribal leaders in Western Iraq into supporting the American forces' deployment in the region.
"Hood is trying to change the opinion of a number of tribal leaders in Ameriyeh district of al-Fallujah in his visits to the region and is bribing them to guarantee an agreement with the US forces' continued deployment in the region," Mahdi Taqi, a senior member of the Iraqi Parliament's Security and Defense Committee, was quoted by the Arabic-language al-Ma'aloumeh news website as saying.
He urged the Iraqi foreign ministry to take a strict position against the move, and warned that the US embassy in Baghdad is supporting and sponsoring certain groups in pursuit of destructive goals in Iraq.
Taqi described Hood's measures as a violation of international laws and Iraq's sovereignty.
Commander of Popular Forces in Ameriyeh region in al-Anbar Salah al-Issawi had revealed earlier that Hood visited the region in Southern Fallujah.