Iraq
Iraqi Pershmerga forces join anti-ISIL battle in Kobani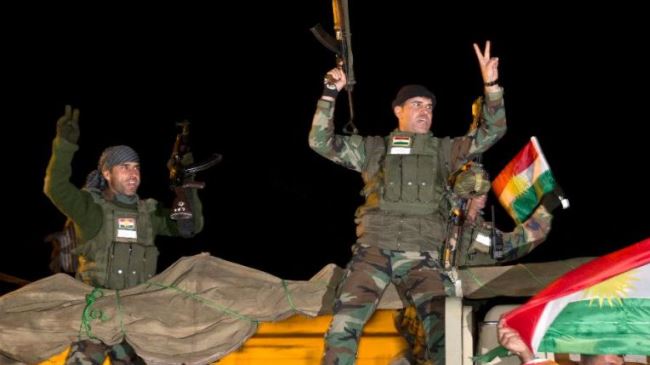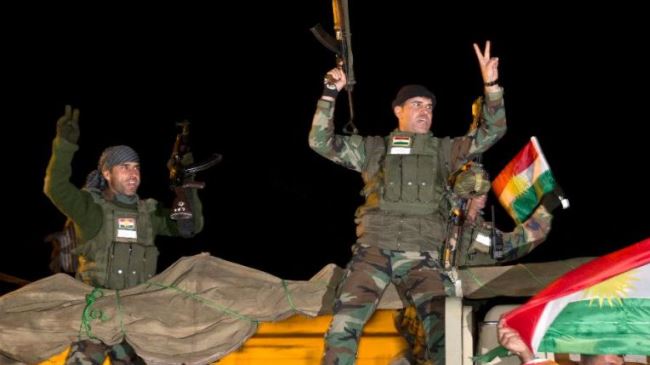 Iraqi Peshmerga forces have joined fellow Syrian Kurds in their battle against the ISIL Takfiri militants operating to seize the Arab country's northern border town of Kobani.
Idriss Nassan, a Kurdish official in Kobani, said on Sunday that Iraqi Kurdish forces had joined the anti-ISIL fight in the embattled Syrian town, known in Arabic as Ain al-Arab, on Saturday night.
A group of 150 Peshmerga fighters, armed with heavy weaponry, including anti-aircraft machine guns and mobile rocket launchers, entered the border town through Turkey earlier on Saturday to reinforce Syrian Kurdish armed groups.
"The Peshmerga joined the battle late yesterday and it made a big difference with their artillery. It is proper artillery," Nassan said, adding, "We didn't have artillery; we were using mortars and other locally made weapons. So this is a good thing."
The arrival of Iraqi fighters in Kobani marks the first time Turkey has allowed troops from outside Syria to assist Syrian Kurds in the face of ISIL attacks.
Meanwhile, the so-called Syrian Observatory for Human Rights also reported fierce clashes between the Kurdish forces and the ISIL terrorists in some areas of the Syrian town, with both sides suffering casualties.
According to some reports, more than 570 ISIL terrorists have so far been killed since the fighting broke out in Kobani more than a month ago.
Kobani and its surroundings have been under attack since mid-September, with the ISIL militants having captured dozens of nearby Kurdish villages and having killed hundreds of people. More than 200,000 people have also fled across the border into Turkey.
This is while the US-led airstrikes targeting ISIL positions near Kobani have done little to stop the deadly violence there.