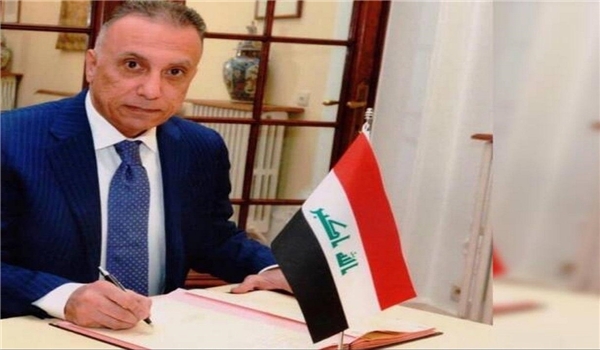 Iraqi Prime Minister Mustafa al-Kadhimi plans to visit Iran next week as his first foreign state trip after taking power, his National Security Adviser Qasim al-Araji said.
Araji was qouted by the Arabic-language al-Mayadeen television news network as saying on Wednesday that the tour aimed at discussing cooperation in various fields will also take Kadhimi to Saudi Arabia and the US.
"I am confident that the countries of the region, in line with positive cooperation with Baghdad, will offer solutions to the existing problems in Iraq," he said.
Araji added that a timetable for the withdrawal of US troops from Iraq will be discussed with the US side.
"Iraq does not want a dispute with any country and we want our relations to be good with everyone while preserving the sovereignty of Iraq," he said, stressing that Iraq's independence and a timetable for the pullout of American forces were the demands of the Iraqi nation.
Iraqi lawmakers unanimously approved a bill on January 5, demanding the withdrawal of all foreign military forces led by the United States from the country following the assassination of Lieutenant General Qassem Soleimani, the commander of the Quds Force of the Islamic Revolution Guards Corps, along with the deputy head of the Popular Mobilization Units (PMU), Abu Mahdi al-Muhandis, and their companions in a US airstrike authorized by President Donald Trump near Baghdad International Airport two days earlier.
This will be Kadhimi's first foreign tour since becoming prime minister on May 7, after the Iraqi parliament approved a new government following nearly six months of political wrangling amid protests demanding economic reforms.