Iraq
Iraqi PM urges safety of protesters as unrest continues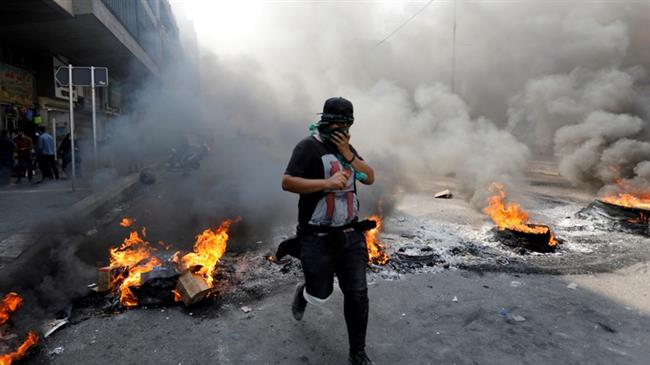 The situation in Iraq remains tense. Prime Minister Adil Abdul-Mahdi has gathered the country's security chiefs for a meeting, and called for measures to ensure the safety of protesters amid an ongoing wave of anti-government demonstrations.
Abdul-Mahdi held a meeting with the country's security chiefs as well as on Saturday night.
During Saturday night's meeting, which was also attended by Interior Minister Yassin Al-Yasiri, the participants reviewed the performance of security forces in line with their duties to ensure domestic stability, protect peaceful demonstrators, as well as safeguard the country's public and private property and vital installations.
On Sunday, the protesters spilled out into the streets of the capital Baghdad and several other cities, shutting down streets, schools and government offices.
In Baghdad, university students parked their cars in the middle of main thoroughfares, blocking traffic. Police officers manning nearby checkpoints did not intervene.
Students took part in sit-ins at schools, and the national teachers union extended its strike that was launched last week.
In Kut to the east, protesters blocked main roads and bridges, and most schools were closed.
Protesters said they will not stop until the message gets to the government and corrupt officials are kicked out.
Further south in Hillah, Nasiriyah, Diwaniyah and the holy city of Karbala, most government offices were closed.
In the country's southern oil-rich port city of Basra, public schools were shut down for the first time since the demonstrations began last month.
At the start of October, street protests erupted in several Iraqi cities over unemployment and a lack of basic services.The rallies resumed on October 25 after a pause of about two weeks, but took a violent turn.
The prime minister has agreed to resign provided that a successor is designated.
It took more than six months of negotiations before Abdul-Mahdi was appointed a year ago. Finding a successor approved by all political factions will not be an easy task.
President Barham Salih has promised to call for early elections.
Iraq's top cleric Ayatollah Ali al-Sistani has appealed for calm, warning of the danger of Iraq plunging into a civil war.