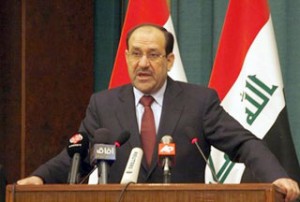 Iraqi Prime Minister Nouri al-Maliki's Rule of Law coalition has claimed it is leading in the country's parliamentary election, according to preliminary results.
The Rule of Law's representatives say the list had come up trumps in Baghdad and the Shia south, the coalition's Abbas al-Bayati was quoted as saying by the Associated Press early on Tuesday morning.
"We think that the Rule of Law coalition will shoulder the task of forming the next government," he said.
Al-Maliki's team could have secured 100 seats out of a total of 325 in nine of Iraq's 18 provinces, The Irish Times reported on Tuesday.
AP also cited regional officials in other parties who had monitored local vote counts as saying that al-Maliki's coalition was ahead.
The Irish Times quoted former Iraqi Prime Minister Iyad Allawi's Al-Iraqiya Alliance as claiming to have won majorities in five mainly Sunni provinces.
Almost 20 million Iraqis cast their ballots before the polling stations closed on Sunday afternoon.
Over 6,200 candidates from six major coalitions and several other tribal and minority groups competed in the Council of Representatives election.
According to the United Nations, partial results will not be announced until Thursday, with full results expected on March 18.