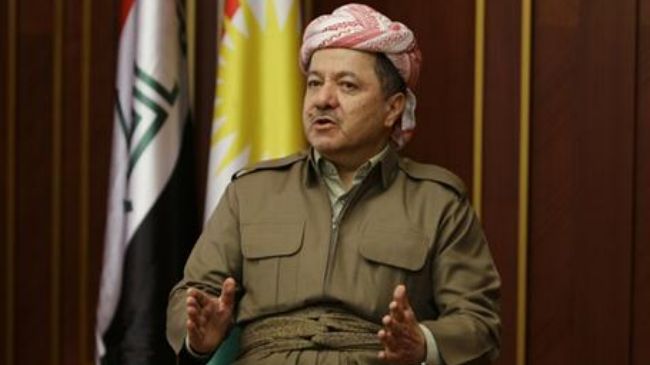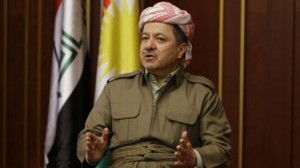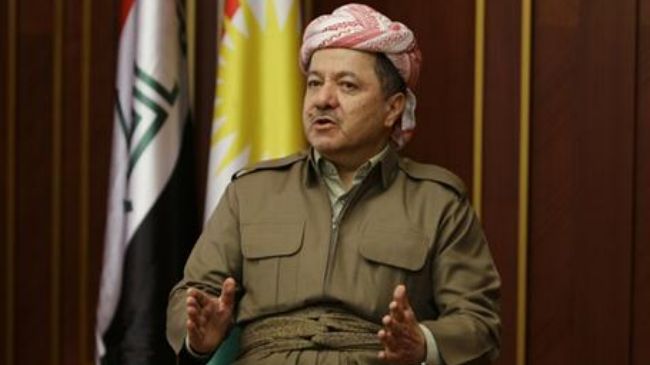 Several prominent Iraqi politicians have strongly criticized the president of Iraq's semi-autonomous Kurdistan Region for saying that the oil-rich city of Kirkuk won't be handed over to the central government in Baghdad.
This comes a day after Masoud Barzani said the Kurdistan Regional Government (KRG) will not return the oil-rich hub of Kirkuk to the Iraqi government forces.
A large number of Iraqi politicians and political groups continue to react angrily to the controversial comments over the fate of Kirkuk.
On Saturday, the Iraq parliament's Sunni bloc –Mutahidoun- strongly rejected Barzani's remarks.
This is while a member of the Sadrist Movement, Hakim al-Zamili has also slammed Barzani and warned against an armed conflict with the Kurds in the near future.
Another well-known lawmaker from the Iraqi Prime Minister Nouri al-Maliki's State of Law Coalition has described the presence of Kurdish Peshmerga forces in Kirkuk as 'occupation'. Mohammed al-Seihoud emphasized that Kirkuk will remain part of Iraq and no party can occupy it.
Kurdish security forces took control of Kirkuk after Iraqi troops entered a battle with the so-called Islamic State of Iraq and the Levant (ISIL) earlier this month.
The latest developments come as tensions rise between the Kurdistan's regional leaders and the central government in Baghdad.
The Iraqi government has repeatedly slammed the Kurdistan region for exporting oil without Baghdad's consent.
Baghdad has also opened arbitration against Turkey for allowing and facilitating the sales and has threatened to pursue buyers.
Baghdad says it has the sole right to export the country's crude, but the Kurds say they are entitled to market the resources of their own region.