Iran
Middle East
North America
Iraqi Popular Forces Deny Role in Sunday Attack against US Embassy
Military spokesman of Asa'eb Ahl al-Haq (one of the Iraqi popular forces) dismissed allegations about the popular forces' role in the Sunday Katyusha rocket attacks on the US embassy in Baghdad.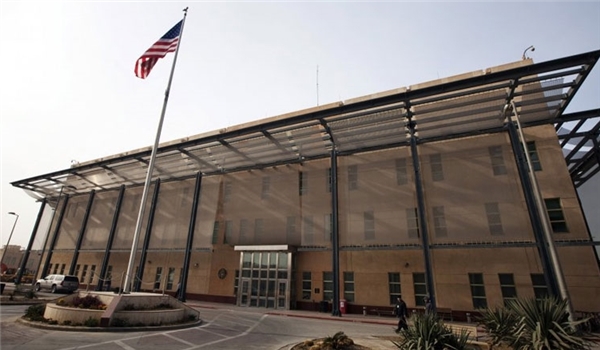 "None of Hashd al-Shaabi (popular forces) groups were involved in rocket attack on the US mission; basically, Hashd al-Shaabi has not fired such munitions (Katyusha) since long time ago," Jawad al-Talibawi wrote on his twitter page on Monday.
"We had earlier emphasized that the resistance groups do not target embassies and diplomatic centers in Iraq," he added.
Al-Talibawi blasted allegations about the involvement of Iraqi resistance groups in the attack as "shameful".
The US embassy in Baghdad's heavily fortified Green Zone came under attack from rocket fire on Sunday evening.
Five rockets crashed into a riverbank near the embassy in the Iraqi capital without causing any injuries, the US Joint Operations Command said in a statement, but AFP news agency citing a security source said three of the rockets "directly hit the US embassy". One slammed into a cafeteria at dinner time, it added.
A US State Department spokesperson said Sunday evening that they "are aware of reports of rockets landing in the International Zone," but did not address the US embassy itself.
"We call on the Government of Iraq to fulfill its obligations to protect our diplomatic facilities," the spokesperson said.
The State Department did not directly blame Hashd al-Shaabi for the rocket strikes in the Iraqi capital, but the spokesperson's statement made reference to what he called as their threats in the region. There was no immediate claim of responsibility for the attack.