Iraq
Iraqi Popular Forces Stress Readiness for Military Confrontation against Zionist Barazani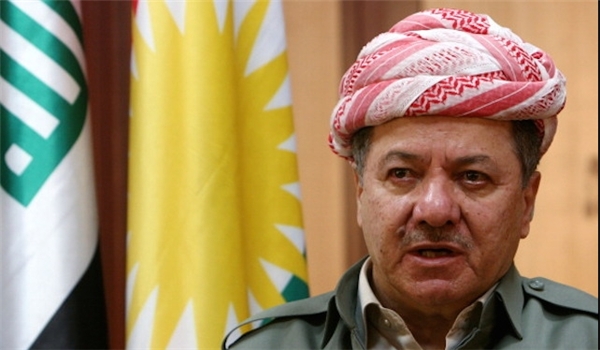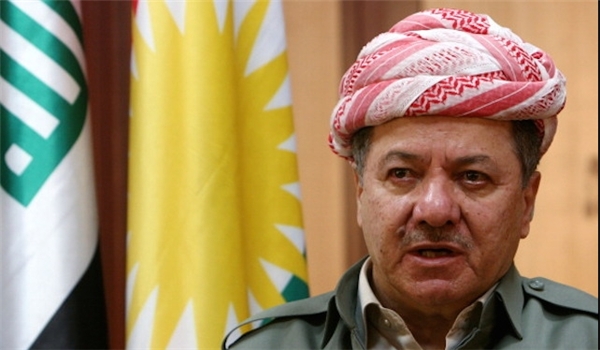 A senior official of Iraqi popular forces underlined preparedness to confront President of the Kurdistan Regional Government (KRG) Masoud Barazani in case of his bid to separate the region from Iraq through a referendum.
"If Masoud Barazani wants to impose his will in the disputed areas, we are ready to confront him," Head of the politburo of Asaeb Ahl Al-Haq Battalion (one of the popular forces fighting alongside the Iraqi army) Adnan Fayhan said on Monday.
Noting that the referendum that the Kurds speak about is special to them and not the Arabs, he said, "We don't threaten Barazani but warn him not to dare to decide about borders with blood."
"In such a case, we will not remain silent and will engage in a military confrontation against him," Fayhan warned.
His remarks came after the Iraqi Vice-President, Nouri al-Maliki, warned of the consequences of a referendum on independence in the Iraqi Kurdistan region, stressing that it will first harm the Kurds.
"Referendum in the Kurdistan region is a big and serious mistake and the Kurds will be harmed more than others," Maliki said on Wednesday.
"Referendum in Kurdistan region is illegal and will violate the constitution of integrated Iraq," he added.
Warning that certain figures want to seize the opportunity to introduce themselves as saviors of the Kurdish people, Maliki said, "Principally, the referendum will have no good benefit and will instead add to problems."
Also, on Tuesday, Iraqi Prime Minister Haider al-Abadi also underscored serious opposition to Kurdistan region's bid to arrange a referendum for independence, describing it as illegal and a big mistake.
"The referendum for independence of the (Kurdistan) region is a very big mistake which is not legal and will bear no positive results and instead will add to the existing problems and therefore, we are strongly opposed to it," al-Abadi said.
Stressing that the Iraqi officials should move in line with people's interests, he said that "separating from Iraq's integrated government will not be to the benefit of our Kurdish citizens".
Al-Abadi underlined that there is no opposition to the federalization of Iraq based on the constitution, and doubted if even one single problem of Kurdistan would be solved through separation from the central government.
Also, last month, Iraq's former National Security Adviser Mowaffak al-Rubaie warned of the dire consequences of arranging a referendum in the Iraqi Kurdistan region, and said only Israel and Saudi Arabia agree with this plan.
"All the world states, from the EU and the US to the Middle-East countries, oppose the referendum for independence in the Kurdistan region and only Saudi Arabia and Israel have agreed with it to be used as a pressure leverage against Baghdad," al-Rubaie, now a senior Iraqi parliamentarian, was quoted as saying by al-Mayadeen news channel.
Also in July, Head of the Islamic Supreme Council of Iraq (ISCI) Ammar al-Hakim underlined the necessity for unity among all Iraqi groups and people, and said he sees a referendum for independence in the Kurdistan region as a harmful blow to the entire nation.
"I believe that Iraq's unity is of vital importance because first it has been stated in the country's Constitution and second, the Iraqis' interests depend on this unity and the consequences of distorting this unity will not be limited to a specific region and will start a domino," Hakim told FNA.
"In such conditions, we will endeavor to convince our partners in the Kurdistan region that this decision will harm Kurdistan and the entire Iraq because our power lies in our unity," he added.
Hakim said that he and his colleagues have consulted with certain regional and world states to dissuade the Kurdish officials from holding the referendum, warning that Iraq's welfare and success will be endangered be the move.