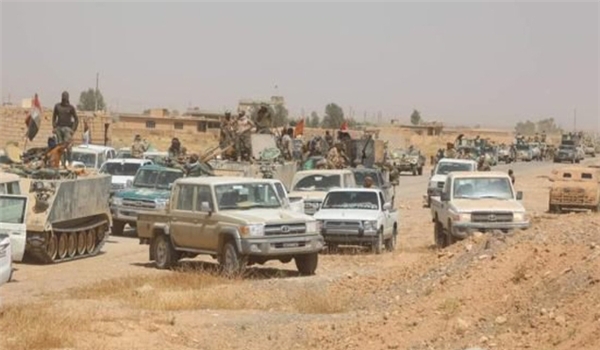 Asa'eb al-Haq Movement affiliated to the Iraqi popular forces of Hashd al-Shaabi reiterated its support for Iran and the necessity for the American forces to leave Iraq.
Senior member of the politburo of Asa'eb al-Haq Laith al-Ozari underscored the Movement's support for Iran against the US in return for Tehran's assistance to the Iraqi nation in war against the terrorist groups.
He also voiced opposition to the deployment of foreign forces in Iraq as "occupation", cautioning that all citizens are entitled to the right to fight these foreign occupiers.
Al-Ozari said that the political fractions in Iraq would not allow their country's territory be used as a platform for attacks on the neighboring states.
In a relevant development in February, Iraq's two leading Shiite parliamentary coalitions of Sairoon (Marching Towards Reform) and al-Fatah (Conquest) renewed their calls for the withdrawal of American forces from the Arab country.
A delegation from Sairoon bloc, led by Shia cleric Muqtada al-Sadr, held talks with members of Fatah alliance, headed by secretary general of the Badr Organization, Hadi al-Ameri.
At a press conference following the meeting, Nasser al-Rabie, the head of the Sairoon delegation, stressed that the two political parties shared a common stance on the pullout of foreign troops from Iraqi territory.
Ameri, for his part, said that continued presence of American forces in Iraq was not possible in the current form and had to be reorganized under a new agreement.
The Americans, he added, were driven out of Iraq in 2011, but they once again entered the country in 2014 under the pretext of fighting the ISIL terrorist group.