Iraq
Iraqi security forces begin voting in parliamentary elections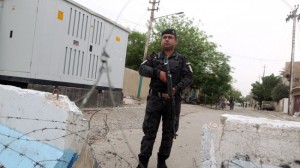 Iraqi security forces have begun voting in the country's parliamentary elections two days ahead of the main voting, amid concerns about the security of the polls.
Iraqi soldiers and policemen began voting on Monday, two days before the national elections, in order to be able to provide security on the main polling day on April 30.
Hospital and prison staff will also be casting their ballots on Monday.
Iraqis living abroad have already cast their ballots at polling stations outside the country. The voting for the Iraqi expatriates took place on Sunday.
The government has announced weeklong public holidays in an effort to facilitate the security process for the voting.
Voting will not be held in the parts of the country that are out of the control of the government.
Khadim al-Assadi, the head of the Independent High Electoral Commission in the holy city of Karbala, said on Sunday that the commission had completed technical and logistical preparations for the Wednesday vote.
Referring to the Monday voting, he also said, "We have 22 election centers for the special vote, 65 polling stations for the army and police voters, a polling station for the prisoners, three polling stations for hospital patients and four polling stations for displaced families."
The vote is Iraq's first parliamentary elections since US forces withdrew in 2011 and is a major test for security forces. Prime Minister Nouri al-Maliki is hoping to win a third term.
Reports say no party is likely to win an absolute majority of the votes, and that coalition talks are likely to take months.
Meanwhile, Takfiri groups such as the so-called Islamic State of Iraq and the Levant (ISIL) are reportedly coming to Iraq from neighboring Syria and Saudi Arabia to undermine security in the country.
The government in Baghdad has blamed Riyadh for the chaos, saying Saudi Arabia is funding and arming militants fighting against Iraqi forces in the country's western areas, including Anbar Province.