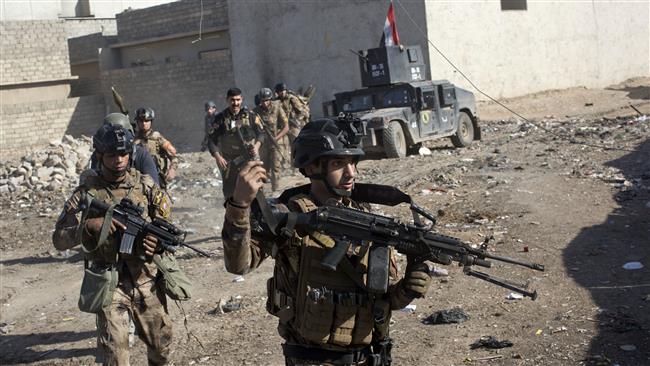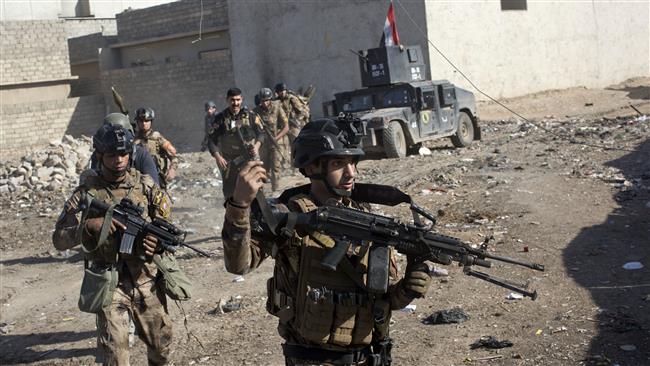 Iraqi forces move to reinforce their toehold in the eastern part of Mosul amid their ongoing push to liberate the key northern city from the clutches of the Takfiri Daesh terror group.
A soldier reportedly died on Friday as the troops moved towards Mosul's Muharabeen district, building on their gain a day earlier of liberating the adjacent Tahrir area.
A month into the launch of the Mosul liberation operation, the Iraqi armed forces are now pitting their airpower, automatic fire,and artillery against Daesh's snipers, mortar fire and explosive-laden vehicles.
Iraqi Prime Minister Haider al-Abadi has vowed that the joint forces, comprising the military, Kurdish fighters, and Shia volunteers, will liberate Mosul by yearend. The city fell to Daesh in 2014, the year when it unleashed its campaign of terror against the Arab nation.
Also on Friday, the troops liberated a village north of the site of the ancient Assyrian town of Nimrud, 30 kilometers (18 miles) southeast of Mosul, which they had retaken last weekend.
Meanwhile, footage showed Iraqi volunteer forces discovering a mortar launcher manufacturing site, which had been set up by Daesh in the power station supplying the al-Shourah District, some 45 kilometers (27 miles) south of Mosul.
The volunteer fighters known as Hashd al-Sha'bi also discovered Daesh's tunnels in the Tal Afar District, 63 kilometers (39 miles) west of Mosul.
Separately, the terror outfit claimed responsibility earlier in the day for an attack the previous night in which a bomber struck a wedding near the western city of Fallujah, killing at least 10 people and wounding 32 others.