Iraq
Iraqis hold funeral for policemen killed in Anbar terror raid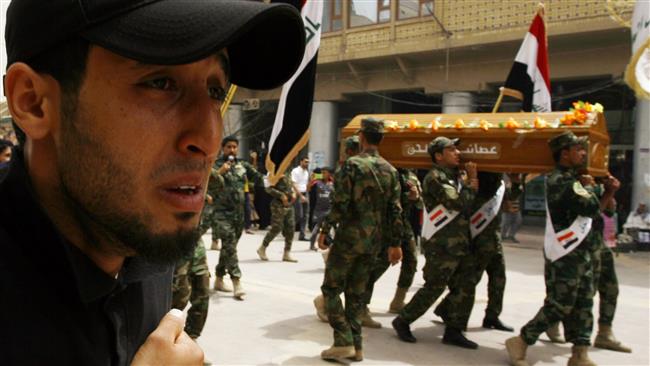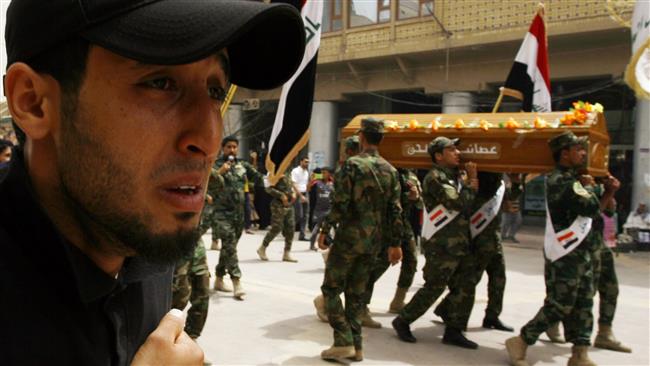 Iraqi mourners have taken part in a funeral ceremony held in the city of Najaf for dozens of police officers killed in a terrorist attack by ISIL Takfiri militants on a police station in the western province of Anbar.
Iraqi officials joined the friends and relatives of those killed in the attack at the Tuesday funeral procession held in Najaf, located 160 kilometers south of the capital, Baghdad.
On Monday, some 45 Iraqi police officers lost their lives when three ISIL terrorists blew up their explosives-laden vehicles at a main police station in Anbar, some 100 kilometers northwest of Baghdad.
The blasts at the base, located in an area between the city of Samarra and the Tharthar region, also left some 60 law enforcement officers wounded.
Interior Minister Salem al-Ghabban, who was among the crowd of mourners, expressed condolences to the relatives of the victims and vowed to bring justice to the family members of those killed in the attack.
Iraq's Prime Minister Haider al-Abadi, who visited the explosion site, also assured that the blood of police martyrs has not been spilled in vain.
Since last week, the Iraqi army, accompanied by the Popular Mobilization Forces, made up of Shia, Sunni and tribal fighters, have launched a major offensive southwest of Samarra in an effort to retake Anbar's provincial capital Ramadi from ISIL extremists.