Iraq
Middle East
Iraqis rally to reaffirm commitment to religious leadership's stand on calm
People have held rallies in various Iraqi cities to support the position of top clerical leadership, especially Grand Ayatollah Ali al-Sistani, that any protests in the country should be invariably peaceful.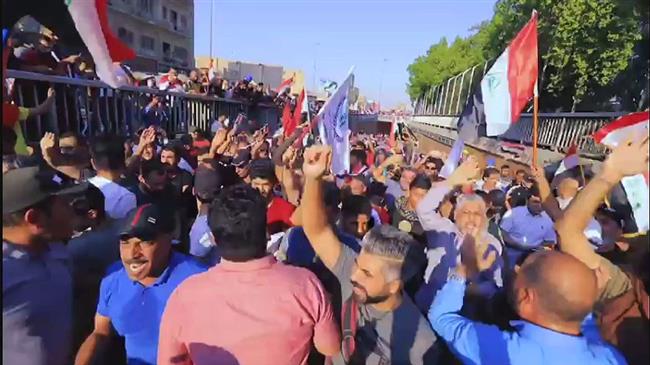 In the first instance of such rallies, thousands rallied in the Iraqi capital, Baghdad, after Friday prayers to reaffirm commitment to Ayatollah Sistani's position that protesters voicing grievances about economic difficulties in the country must fully avoid violence.
The protesters chanted slogans in support of the country's top clerical leader, such as "Seyyed Ali, the entire nation is with you," while declaring their backing for reforms announced by the Iraqi government and calling for suitable measures to fight corruption and unemployment.
Similar rallies were also held in the holy city of Karbala as well as the southern port city of Basra on Sunday, when the participants emphasized that Ayatollah Sistani's stance about protests was a road map both for the government and the people of Iraq.
During the Sunday rallies, the demonstrators also called on the Baghdad government to boost the implementation of packages of economic and political reforms recently approved by the Iraqi parliament and the government of Prime Minister Adil Abdul-Mahdi.
Ayatollah Sistani has stressed the right to freedom of peaceful assembly and has warned against any violence, amid recent protests.
In a statement on Friday, Ayatollah Sistani expressed regret about the continued clashes between demonstrators and security forces, which have resulted in the deaths and injuries on both sides and damage to public and private property.
Top cleric warns about outbreak of civil war in IraqAyatollah Ali al-Sistani, the top Shia cleric of Iraq, has urged the end of bloodshed and warned of a civil war in the Arab country.
The ongoing demonstrations in Iraq follow a previous bout of anti-government protests in early October over alleged corruption, unemployment, and a lack of basic services.
More than 200 have been killed and thousands of others wounded since the protests erupted, with security forces using tear gas and rubber bullets against those taking to the streets.
Abdul-Mahdi, who rose to power a year ago, has pledged more reforms aimed at improving the economy.