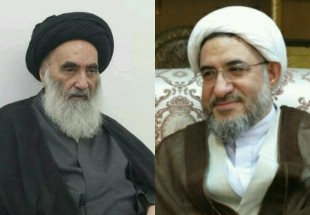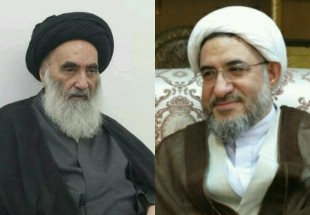 Secretary General of the World Forum for Proximity of the Islamic Schools of Thought visited Iraq's most senior Shia cleric Grand Ayatollah Ali al-Sistani.
Joining the journey to mark and mourn the martyrdom of infallible Imam Hussein (PBUH), Secretary General of the World Forum for Proximity of the Islamic Schools of Thought, Ayatollah Mohsen Araki visited Iraq's most senior cleric Grand Ayatollah Ali Sistan, reported Taqrib News Agency (TNA).
During the visit, Ayatollah Sistan placed stress on the prime importance of unity and rapproachement among Shiite and Sunnis urging the necessity of working in tandem and battling their common enemies.
Beckoned to enemies' willful effort in provoking showdown among Shias and Sunnis, the religious thinker stressed, "some even insisted to get permission for this war, but I refrained them from any Sunni-Shiite clash in Iraq."
"In the here and now, we observe a full fraternity among Shiite and Sunni believers," pointed out the religious cleric hailing Muslims for creating such amicable milieu in the country.
Elsewhere in his remark, Iraq's most senior Shia cleric grand Ayatollah Sistan also lauded Iran for having telling role in securing peace in the region and helping Iraq for ensuring security.
Ayatollah Sistan prayed Iranian nation would go through the current economic turmoil, brave the standing setbacks; the religious thinker expressed his sincere hope that all the imposed sanction against the country would be lifted.
Millions of Muslims from across the world have gathered in Iraq's holy city of Karbala to commemorate Arba'een, the 40th day after the martyrdom anniversary of Imam Hussein, the third Imam.
People from at least 60 countries gathered in Karbala to pay tribute to the grandson of Prophet Muhammad, who was martyred in the desert plains of the city along with his 72 companions some 14 centuries ago.
Imam Hussein and his companions were martyred in a battle with the massive army of Yazid I after refusing allegiance to the tyrant caliph.
Over the past few days, hundreds of thousands from Iraq, Pakistan, India, Iran, Bahrain, Saudi Arabia, Lebanon, Azerbaijan, Turkey and elsewhere have been trekking a main road between Najaf – another holy city in Iraq – and Karbala on foot to show their devotion. The two cities are more than 75 kilometers apart.
Each year, Sunni Muslims and followers of other religious groups such as Christians join the journey to mourn the martyrdom of Imam Hussein.