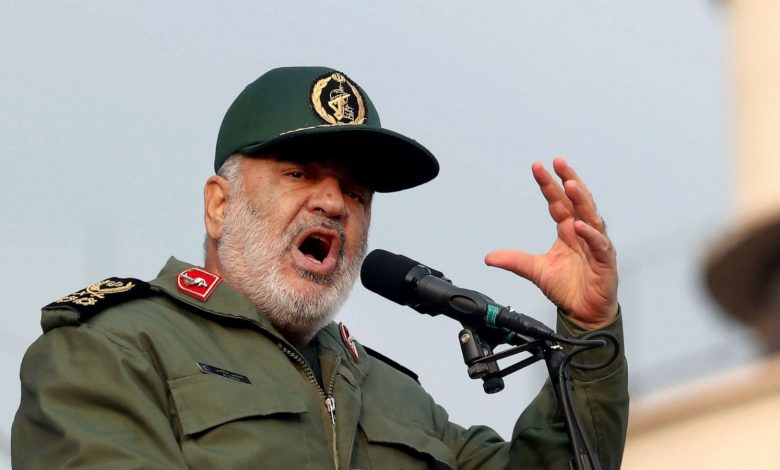 The commander of the Iranian Revolutionary Guard said on Tuesday that they are determined to "continue the path of the martyr of nuclear scientist Fakhrizadeh."
The Commander-in-Chief of the Iranian Revolutionary Guard, Major General Hossein Salami, said in his speech that was reported by Fars News during a memorial service for the nuclear scientist Mohsen Fakhrizadeh, that "the enemies should await the responses of the Islamic Republic of Iran according to the manner and situation that we determine."
"Any point on which the enemy focuses is a point of our strength and the fear of the enemies, and that resorting to criminal acts such as assassinations means that we must educate and prepare the likes of Fakhrizadeh," stressing that "the path of this dear martyr will continue with more determination and will from his students." .
He emphasized that "assassinations and blind actions by the enemies will only accelerate the Islamic revolution," adding: "We have been brought up with martyrdom and that the enemy does not have the ability to perceive this fact. Their martyrdom reinforces our will to reach the lofty goals of the Islamic Republic. "
The Commander-in-Chief of the Revolutionary Guards stressed, "The Iranian people that we will respond firmly to the assassination of our nuclear scientist," adding that "martyrdom is our pride. Just as we witnessed the humiliation of arrogance with the martyrdom of Hajj Qassem Soleimani, it is certain that the martyrdom of Mohsen Fakhrizadeh will also humiliate the enemies and will accelerate our speed in the path that will follow."
Last week, Iran buried Iranian nuclear scientist Mohsen Fakhrizadeh, who was assassinated on Friday, November 27th, after his car was targeted near the capital, Tehran.
Iranian President Hassan Rouhani vowed to respond in a timely manner to the assassination of the prominent nuclear scientist Mohsen Fakhrizadeh, while Iran's Supreme Leader Ali Khamenei called for an investigation into the assassination, stressing at the same time the need to inflict final punishment on the perpetrators and leaders of this crime.