Iran
IRGC cannot play its role without support of the people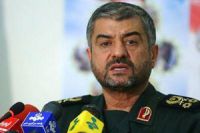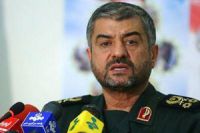 The top commander of the Islamic revolutionary Guards Corps (IRGC) , Major General Mohammad Ali Ja'fari on Monday stressed that the Islamic Revolution and IRGC are depend on people's support, and cannot play their role without the popular support of the people.
According to IRIB World Service, Major General Ja'fari speaking on Monday at a press conference on the eve of the anniversary of the foundation of the IRGC said: "The IRGC's raison d'etre is that it is a popular organization, a revolutionary organization and an Islamic organization, since the Islamic revolution is meaningless without the active support and backing of the people, and an organization which is tasked with preserving and safeguarding the ideals of the Islamic Revolution, clearly has no meaning without the active participation, support and assistance of the people.
In further remarks, Major General Ja'fari said the main threat against the Islamic revolution at this juncture is a cultural threat — a cultural assault . He pointedly added: "Our enemies are targeting our faith, our beliefs, and our revolutionary ideals and goals, since our enemies know that the only way of destroying a revolution which is based on convictions and faith, is to change our faith and our beliefs".
Commenting on foreign media propaganda that the IRGC is involved in lucrative economic projects, Major General Ja'fari said IRGC is only engaged in infrastructure development projects , and this is very different to undertaking economic projects.