Iran
Middle East
North America
IRGC chief warns any military action against Iran will backfire
The chief commander of Iran's Islamic Revolution Guards Corps (IRGC) has warned the enemies that any military action against the Islamic Republic would backfire on the perpetrators, stressing that all the conspiracies against the country are doomed to failure.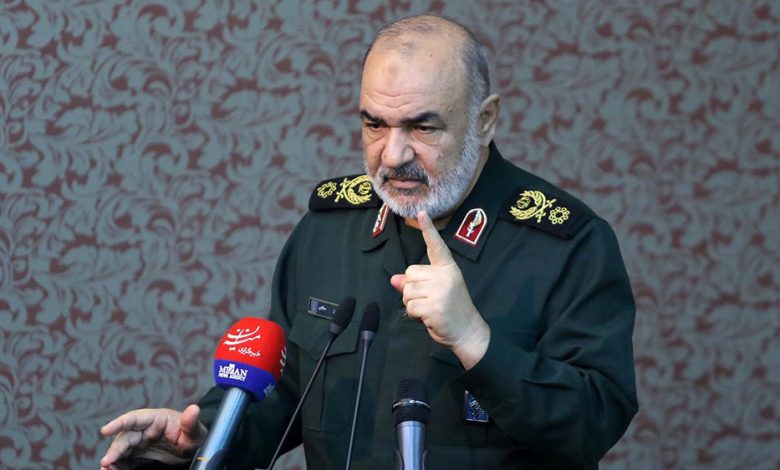 "Despite all of their plots and contrivances, the enemies of the Iranian nation have found out today that [issuing] military threats against us is useless," Major General Hossein Salami said during a meeting in the western province of Kermanshah on Tuesday.
Such an option "does not bring them (the enemies) [their expected] outcome," he said. "If they resorted to military action against Iran, they would get the opposite result and end up regretting [the move]."
He said, however, that "military warfare does no longer rank among the enemy's choices."
The adversaries even stopped short of conquering the battlefield through their proxies, including Takfiri terrorists, he said.
'All other schemes abortive too'
Despairing of military action, the enemies, who have armed themselves with the entirety of the instruments that they have at their disposal, have taken aim at the country's economy, the commander said, referring to the tough economic sanctions that the US has imposed on Iran.
The enemies have also started targeting the people's affinity with the country's Islamic establishment and the nation's sense of hope, he said.
However, all of the enemies' provocative schemes are doomed to fail in the face of the country, he noted.
The Iranian youths are negating all of the enemies' sanctions and realizing remarkable instances of advancement every day, General Salami said.
"We have blocked the enemies' path and their calculations aimed at sowing sedition [among the nation] will get nowhere," he said.
"They have been defeated in all of these dreams," said the commander, adding the more they try, the more frustration they would experience in their efforts to target the Islamic Republic.
'We stand until enemy suffers complete decline'
The Islamic Republic's goal no longer rested only in avoiding defeat, General Salami said, adding the country was now in pursuit of victory and conquest of greater arenas.
"We stand until the end, and the end of this steadfastness equals complete decline of an enemy, whom as we see is experiencing its twilight [era]," he stated.