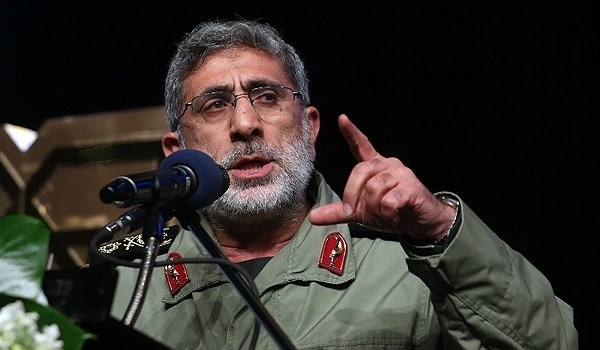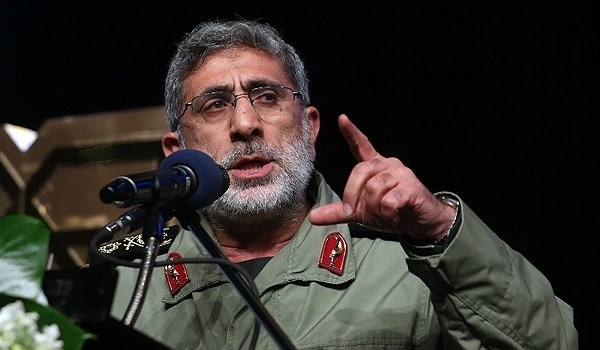 Lieutenant Commander of the Islamic Revolution Guards Corps (IRGC)'s Quds Force Brigadier General Esmayeel Qaani said that Ansarullah has been able to develop home-made missiles with high precision-striking power, dismissing Tehran's involvement in Yemen war.
"They (Ansarullah) attained the technology to build missiles with the highest precision-striking power in the shortest possible time and we see that some of their 400-km to 500-km range missiles hit the targets only with 10 to 12 meters margin of error and all these possibilities have been developed by Ansarullah forces," General Qaani said, addressing a gathering in Tehran on Tuesday evening.
He underlined that Ansarullah, itself, without any assistance is managing the war, adding, "Today, whenever Ansarullah wants, it can target any enemy ship."
General Qaani said that the Yemeni army and popular forces will decide about the end of war and do not allow others to impose their will on them.
Elsewhere, he also rejected Iran's interference in the Red Sea and the Yemen war.
Saudi Arabia has been striking Yemen since March 2015 to restore power to fugitive president Mansour Hadi, a close ally of Riyadh. The Saudi-led aggression has so far killed more than 20,000 Yemenis, including hundreds of women and children. Despite Riyadh's claims that it is bombing the positions of the Ansarullah fighters, Saudi bombers are flattening residential areas and civilian infrastructures.
Yemen is the world's largest humanitarian crisis with more than 22 million people in need and is seeing a spike in needs, fueled by ongoing conflict, a collapsing economy and diminished social services and livelihoods. The blockade on Yemen has smothered humanitarian deliveries of food and medicine to the import-dependent state.
The UN has repeatedly criticized the Saudi-UAE-led military coalition's bombing campaign and placed it on a blacklist of child rights violators last year.
A UN panel has also compiled a detailed report of civilian casualties caused by the Saudi military and its allies during their war against Yemen, saying the Riyadh-led coalition has used precision-guided munitions in its raids on civilian targets.