Iran
Middle East
North America
IRGC Commander: Enemies' Attempts to Intimidate Iran Backfire
Commander of the Islamic Revolution Guards Corps (IRGC) Major General Hossein Salami underlined failure of the world powers in their plots against Iran, saying that they have failed to intimidate the country by their pressures and military awe.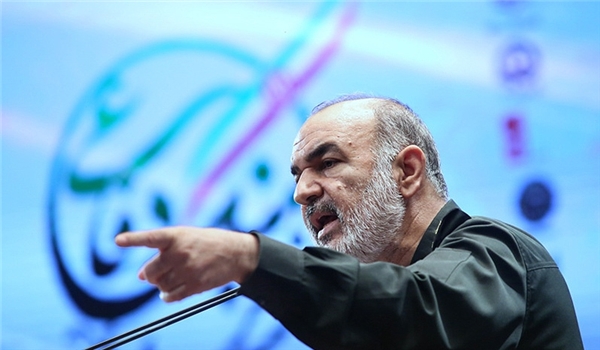 "We are witnessing the failure of enemies' ideas in the field. The failure of big powers can be seen very readily and all ways have been closed to them," General Salami said, addressing a ceremony to introduce new Commander of Basij (volunteer) forces Brigadier General Gholamreza Soleimani in Tehran on Thursday.
He referred to the US and its allies' plots to spread fear of war in Iran, and said, "They have exerted economic pressure and launched psychological operations and economic war but today they are the ones who fear war due to the Iranian nation's resistance."
In relevant remarks on Wednesday, General Salami said that Iran's military power and might has taken the military option off the table for the US, stating that the US is fearful of war against Iran.
"We have completely blocked the road to the enemies in the military field and we have reversed the balance. Under the current situation, it is the enemies who are concerned about war and this concern is displayed in their physical and tactical behavior," General Salami said, addressing the commanders and personnel of Khatam al-Anbia base in Tehran.
He said the US exercised a similar offensive strategy in the political field first, but "eventually, they announced that they didn't intend to go for a confrontation and called it a quit; in fact, this was a retreat to give them a chance to save themselves from a bottleneck they had created themselves."
"Today, our global power is very well known and credited, and it includes an extraordinary deterrence capacity; we have managed to shatter the United States' awe in the world public opinion" on the scene of action, General Salami said.