Iran
Middle East
North America
Qasem Suleimani
IRGC Commander: Foreign Military Buildup Threatens Persian Gulf Region
 Commander of the Islamic Revolution Guards Corps (IRGC) Navy Rear Admiral Alireza Tangsiri warned that deployment of foreign forces is threatening the Persian Gulf region's security and environment.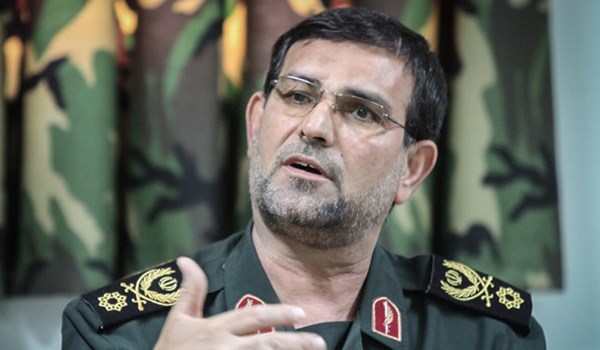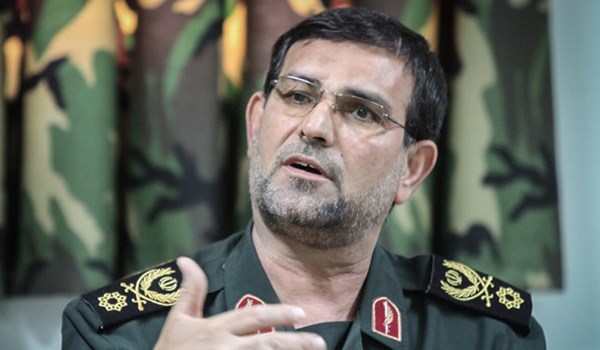 "We can establish security in this important region (Persian Gulf) with synergy, wargames and sympathy and the presence of foreigners harms regional security," General Tangsiri said in an interview with the Arabic-language al-Alam news channel on Monday.
He further said the foreign navies navigate their nuclear-powered warships and submarines in the Persian Gulf, which is "highly dangerous" to the environment.
General Tangsiri said all the regional and trans-regional vessels which enter the Persian Gulf are monitored and Iran enjoys full intelligence superiority over them, adding that the country will not close the Strait of Hormuz as long as enemies do not block exports of its oil from the region.
In relevant remarks last Saturday, Secretary of Iran's Supreme National Security Council (SNSC) Ali Shamkhani said his country did not plan to block off the oil lifeline in the Persian Gulf, but meantime stressed that if needed, sealing the Strait of Hormuz would not be Tehran's only option.
"Although the Islamic Republic of Iran's military capabilities and extensive capacities have been proved to expert observers and there is no need for restatement and repetition, cutting off oil exports (from the region) does not necessarily mean a closure of the Strait of Hormuz, as there are different methods to materialize it and we hope that we will not be forced to use them," Shamkhani said.
He referred to Washington's embargoes against Iran, and said, "The Islamic Republic of Iran has designed and put into operation some initiatives which foil the US illegal sanctions against exports of Iranian crude."
Shamkhani underscored that the US pressures impose some expenses on Iran but may not weaken the country's resolve.
His remarks alluded to Iranian President Hassan Rouhani's warning to his US counterpart Donald Trump last July against the unbearable costs and dire consequences of blocking Iran's oil exports, saying belligerency against Iran would the "mother of wars".
"The regional states are either afraid of the US or do not trust it. Anyone who understands politics a little bit would never say that he/she would prevent exports of Iran's oil. We have many Straits. The Strait of Hormuz is just one of them," President Rouhani said, addressing the Iranian ambassadors to foreign states in Tehran, repeating his earlier tacit threat that Tehran would close off the Strait of Hormuz in response to any move by the US to zero its crude supplies.
He stressed that Iran has been the guarantor of security in the Strait of Hormuz all throughout the history, saying, "Mr. Trump! Do not twist the lion's tail because you will regret. You are not able to provoke the Iranian nation against Iran's security and interests."
"The Americans should come to realize this point well that peace with Iran would be the mother of all peaces and war with Iran would be the mother of all wars. We do not quiver from threats and we have a deterrent power. Today our internal unity is more than before, threats make us more coherent and we will definitely beat the US," Rouhani said, and added, "We would sustain costs, but will earn greater interests."
President Rouhani underscored that the new conditions created after the US withdrawal from the 2015 nuclear deal was an opportunity for relations with the world, exports and home-made production, saying, "Today, talks with the US has no other meaning but surrendering and putting an end to the Iranian nation's achievements. If we surrender to a liar bullying person like Trump, they will plunder Iran."
Addressing a group of Iranians in Switzerland on July 2, President Rouhani had also said that "it would be meaningless that Iran cannot export its oil while others in the region can. Do this if you can and see its consequences".
He also underlined that Tehran will never give in to pressure forced upon it by foreign countries.
After his remarks, Commander of the Islamic Revolution Guards Corps Major General Mohammad Ali Jafari warned the US not to make any stupid move to halt Iran's oil exports, and said the IRGC was fully prepared to implement the latest position adopted by President Rouhani with regard to closing the Strait of Hormuz in the Persian Gulf.
"We stand ready to put in action President Hassan Rouhani's latest position that if Tehran were not able to export its crude oil through the Strait of Hormuz, no other country would be able to do so," General Jafari said.
Also, Commander of the IRGC Quds Force Major General Qassem Soleimani appreciated President Rouhani for both his remarks against Israel and his warning against any possible US move to stop Iran's oil exports.
"What has been released in the media about your remarks that if the Islamic Republic of Iran's oil is not exported, there will be no guarantee for export of oil from any other point in this region, and the highly valuable remarks about the Islamic Republic of Iran's position on the Zionist regime is a source of pride and honor," General Soleimani said in a letter to Rouhani.
He praised President Rouhani for his timely, wise and correct comments, and underlined his preparedness to exercise any policy that is in the interest of the Islamic Republic.
Also, Supreme Leader of the Islamic Revolution Ayatollah Seyed Ali Khamenei supported President Rouhani's remarks that any attempt to block Iran's oil sales would have dire consequences, including for other regional states' crude exports.
"President's remarks in his recent trip to Europe stating, 'if Iran's oil export is blocked, no other country in the region will export oil either', is a crucial remark expressing the Islamic Republic's approach," Ayatollah Khamenei said in Tehran, addressing the foreign minister, staff and officials of the ministry of foreign affairs, as well as Iranian ambassadors and senior diplomats serving abroad.
He asked the foreign ministry to sternly follow up on such stances by the President.