Iran
IRGC Commander: Iran's Might Annihilates Enemies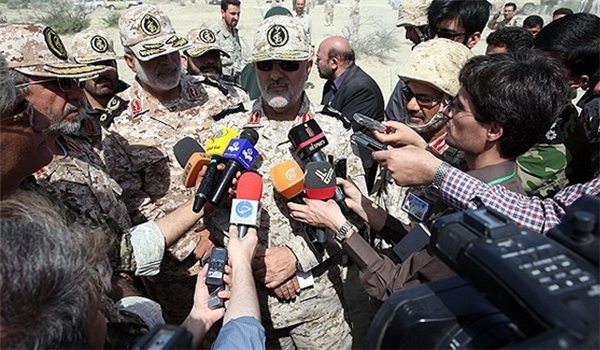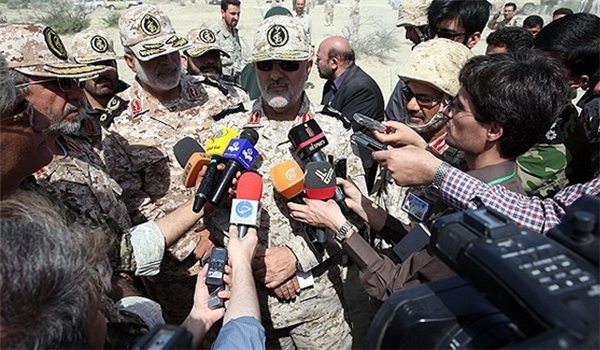 Commander of the Islamic Revolution Guards Corps (IRGC) Ground Force Brigadier General Mohammad Pakpour warned Iran's enemies that the country's might and power will annihilate them.
"Our message to friends is peace and security and to those who think of threatening the Islamic Republic of Iran is that they should know our might will annihilate them," Pakpour said on the sidelines of the second day of the massive Payambar-e Azam 9 (The Great Prophet 9) wargames in the Persian Gulf and the Strait of Hormuz.
Noting that Iran has test-fired different home-made weapons in the wargames, he said, "We exercised asymmetric battle in these maneuvers."
"The defense that we exercised in these wargames was smart defense using civil defense on the ground where the maneuvers were being staged," Pakpour said.
The second day of the IRGC Navy started in Jask region in the Persian Gulf and the Strait of Hormuz on Thursday.
The massive exercises started on Wednesday after IRGC Commander Major General Mohammad Ali Jafari issued the order and in the presence of other high-ranking Iranian officials and military commanders, including Parliament Speaker Ali Larijani, Deputy Chief of Staff of the Iranian Armed Forces Major General Gholam Ali Rashid, Commander of the IRGC Aerospace Force Brigadier General Amir Ali Hajizadeh, Lieutenant Commander of the IRGC Brigadier General Hossein Salami, Brigadier General Pakpour, Deputy Chief of Staff of the Armed Forces Brigadier General Baqeri and IRGC Navy Commander Rear Admiral Ali Fadavi.