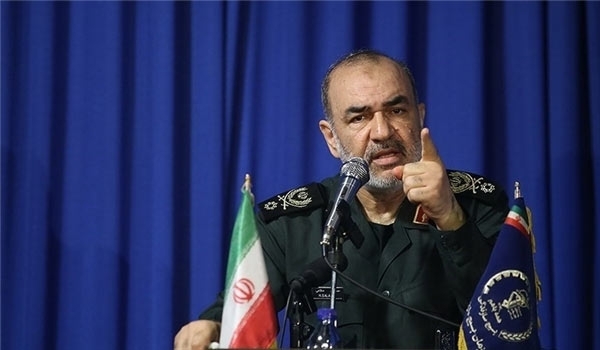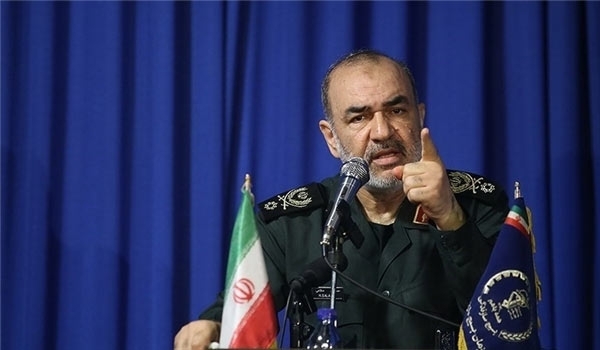 Lieutenant Commander of the Islamic Revolution Guards Corps (IRGC) Brigadier General Hossein Salami warned of Israel's recent mischiefs in the region, saying that the regime will be forced to return all occupied territories to the Palestinians in case of any new war.
"Our strategy is to wipe Israel off the world's political geography and Israel seems to be approaching this reality by its evil actions," General Salami told reporters in Tehran on Monday and in response to questions about Iran's positions on Israeli air assaults on Western Syria.
"We declare that if Israel does anything that leads to a new war, certainly it will be the kind of war that will result in their elimination, and the occupied territories will be retaken," he added.
General Salami also said that the Israelis will not even have a graveyard in Palestine to bury their dead citizens in case of continued evil actions.
In relevant remarks in December, IRGC Commander Major General Mohammad Ali Jafari warned enemies not to try Iran's defense power or wait for a much stronger response.
General Jafari made the remarks on the sidelines of the Saturday military drills by the IRGC in the Persian Gulf and Qeshm Island at the time.
"The wargames were a response to the claims that the enemies have and they should know that the Islamic Republic of Iran's defense power is a deterrent power and as the Supreme Leader has said if they decide to hit a blow, they will certainly be responded with 10 blows," he underlined.
"We hope that the enemies of the Islamic Republic of Iran have realized our power of response and our crushing chasing response more than the past," General Jafari said.