Ashura
Days of Allah
Iran
Iraq
Middle East
IRGC Commander Praises Iraqis' Hospitality in Arbaeen Season
Islamic Revolution Guards Corps (IRGC) Commander Major General Hossein Salami expressed his gratitude to the Iraqi nation for their hospitality during the Arbaeen season, which marks the 40th day after the martyrdom anniversary of Imam Hussein, the third Shiite Imam.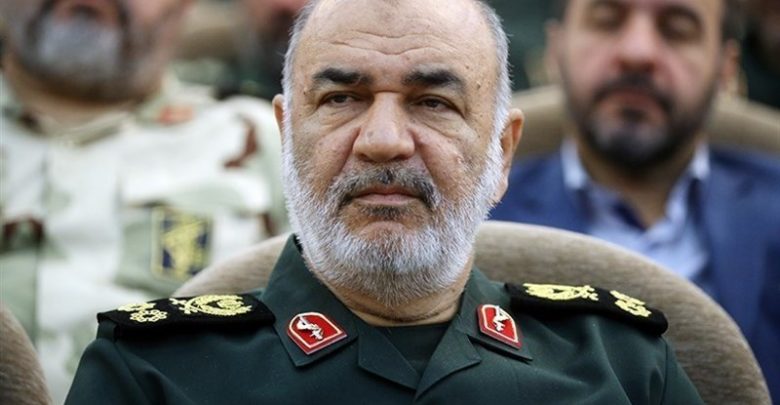 Speaking to reporters while attending a ceremony to mark Arbaeen in the northern city of Shahr-e-Rey in Tehran Province on Saturday, Major General Salami said, "Arbaeen is a day when all the huge rivers of divine love and affection move toward Imam Hussein (AS)."
He further hailed the Iraqis' measures to serve Iranian pilgrims visiting the Arab country during Arbaeen and said, "The Iraqi people have shown their utmost kindness, love and hospitality, and we thank every single one of them."
The commander also referred to the unity and solidarity between Iran and Iraq and said, "We are siding with the Iraqi brothers, and the warmth that the enthusiasts for Imam Hussein (AS) have created will melt the global arrogance (the US)."
Last week, Hossein Zolfaqari, Iran's deputy interior minister for security affairs, said three million pilgrims had crossed the country's four borders with Iraq for Arbaeen pilgrimage by then.
This year, the four borders of Khosravi, Mehran, Chazzabeh, and Shalamcheh are open to the Arbaeen pilgrims.
Arbaeen, one of the largest religious gatherings in the world, comes 40 days after Ashura, the martyrdom anniversary of the third Shiite Imam.
Each year, a huge crowd of Shiites flock to the Iraqi city of Karbala, where the holy shrine of Imam Hussein (AS) is located, to perform mourning rites.
In August, Iran and Iraq signed an agreement in Tehran to reopen the Khosravi border crossing and remove visa restrictions for Iranian Arbaeen pilgrims.
Iran and Iraq also agreed to raise the level of services and facilities for the pilgrims and enhance border security during the Arbaeen season, which will culminate in a large gathering in Karbala on October 19.