Iran
IRGC Commander Reiterates Iran's Full Preparedness to Foil Enemies' Threats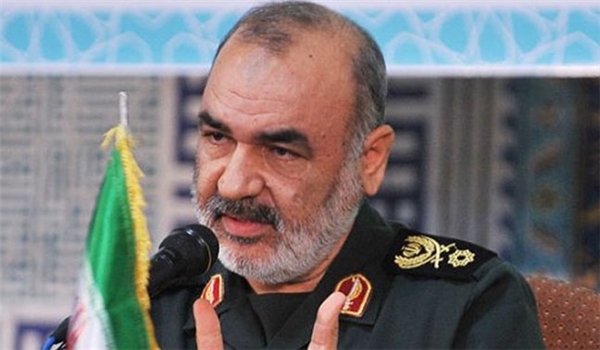 Lieutenant Commander of the Islamic Revolution Guards Corps (IRGC) Brigadier General Hossein Salami underlined the preparedness of the Iranian Armed Forces to repel any kind of possible enemy threat against Iran.
"The brave Iranian nation is not afraid of the enemy's threats and sanctions as the country's Armed Forces are in the best conditions of preparedness," Brigadier General Salami said, addressing a gathering of seminaries in the Central City of Qom on Thursday night.
He pointed out that Iran's eye-catching advances in different political, economic, military and scientific areas, and said, "Such advances have amazed the enemies of Iran."
Brigadier General Salami referred to the enemies' plots, and said, "Today the Islamic Republic of Iran is in a calm situation despite being surrounded by instabilities in the Middle East."
In relevant remarks on Thursday, Commander of the Iranian Ground Force Brigadier General Ahmad Reza Pourdastan reiterated that the country is now enjoying the best military force with unique features, that are fully prepared to confront any possible enemy threat and aggression under any conditions.
Iran's Armed Forces will be never shocked by enemies' moves, Pourdastan stressed, addressing a gathering in Tehran.
"Today, we are facing new threats that are totally different in terms of type, shape and size compared to those of the past," he added.
Defense analysts and military observers say that Iran's wargames and its advancements in weapons production have proved as a deterrent factor, specially at a time of heightened threats by Israel and the US.
Tehran launched an arms development program during the 1980-88 Iraqi imposed war on Iran to compensate for a US weapons embargo. Since 1992, Iran has produced its own tanks, armored personnel carriers, missiles and fighter planes.
Yet, Iranian officials have always stressed that the country's military and arms programs serve defensive purposes and should not be perceived as a threat to any other country.