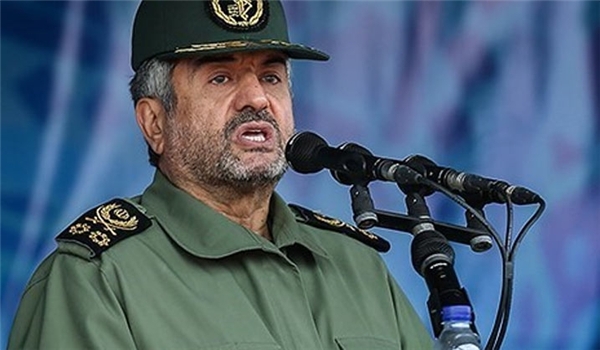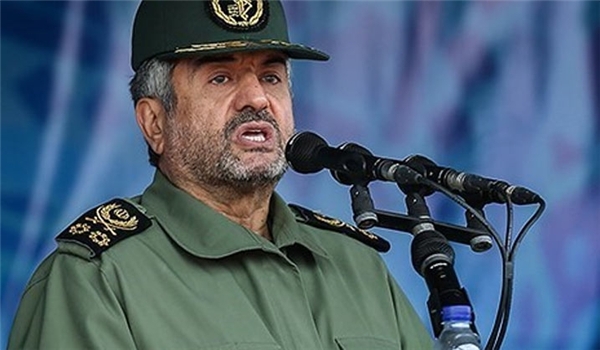 Commander of the Islamic Revolution Guards Corps (IRGC) Major General Mohammad Ali Jafari downplayed Israeli Prime Minister Benjamin Netanyahu's threats to Iranian military advisors in Syria as "ridiculous", warning Tel Aviv of his country's precision-striking missiles.
"We will keep both all our military and revolutionary advisors as well as equipment and weapons that we have in order to train and make the Islamic resistance fighters more powerful and support the oppressed Syrian people," General Jafari said on Wednesday.
He, meantime, said that Iran has not deployed any military combat units in Syria.
The top General scolded Netanyahu, saying the Iranian military units are so powerful that they fill the heart of enemies with fear and horror.
General Jafari addressed the Israeli officials, and said, "Rest assured that we attach no significance to your ridiculous threats at all."
He said that a great wisdom is concealed in Iran's patience towards some of the Israeli actions, and added, "Undoubtedly, you will understand the cause of our revolutionary…patience in a not so far future."
"You should only know that you are playing with lion's tail. You should fear the day when Iran's precision-striking missiles rain down on your heads roaring and taking the revenge for all the blood of the oppressed regional Muslims shed unjustly," General Jafari warned in serious remarks.
His remarks came one day after Netanyahu threatened that the Israeli forces will attack the Iranians in Syria.
Iran has played a military advisory role in Syria but has always denied deployment of forces in the country and other regional states.
Earlier this month, Iranian Defense Minister Brigadier General Amir Hatami underlined his country's determination to support Syria until the war-ravaged nation embraces ultimate victory against all terrorist groups.
"The Syrian nation has fended off a major threat posed to the nation and the region by fighting against terrorism and we will accompany Syria until final victory as we have been standing beside the Syrian nation so far," General Hatami said in a meeting with Syrian Deputy Defense Minister Major General Mahmoud al-Shawa in Tehran.
He also underscored Tehran's preparedness to participate in reconstruction efforts in Syria.
General al-Shahwa, for his part, said that the Syrian government, nation and Armed Forces believe that their victories against the terrorists are indebted to Iran's supports.