Iran
IRGC Commander Tasks All Forces with Helping Flood-Hit Iranians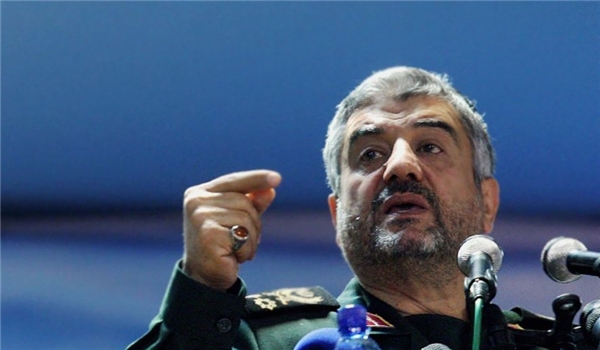 Commander of the Islamic Revolution Guards Corps (IRGC) Major General Mohammad Ali Jafari ordered the ground and aerospace forces of the IRGC along with the Khatam al-Anbiya Construction Headquarters to rush to the help of flood-hit residents of the two Northern provinces of Mazandaran and Golestan.
IRGC Commander Major General Mohammad Ali Jafari ordered for the acceleration of offering quality relief and rescue services to the flood-stricken people in Iran's Northern provinces, IRGC Spokesman Brigadier General Ramazan Sharif said on Sunday.
In the wake of the official order of Leader of the Islamic Revolution Ayatollah Seyed Ali Khamenei to the armed forces on providing necessary facilities and amenities to the people hit by devastating flood in the two Northern provinces of the country, Major General Jafari missioned ground and aerospace forces across the country to accelerate rescue efforts.
With the construction of a temporary bridge on Gorgan-Aqqala Road, a major part of problem was removed in Golestan province, Brigadier General Sharif added.
For his part, Spokesperson for Iran's Army Shahin Taghikhani said, "Following the order of the Leader of the Islamic Revolution, Army Forces beefed up relief and rescue services to the residents of flood-hit areas in two northern provinces of the country.
In accordance with its inherent duty, Army Forces rushed to help flood-hit people in early hours of this natural disaster, he stated.
Chairman of the Joint Chiefs of Staff of the Iranian Armed Forces Major General Mohammad Hossein Baqeri on Saturday issued instructions to commanders in the IRGC, the Iranian Army, Police, and the Defense Ministry that forces under their command should continue "full and organized" assistance in flood-hit areas in a coordinated manner.
Iranian military forces had already been deployed to help with rescue efforts. But Leader of the Islamic Revolution Ayatollah Seyed Ali Khamenei earlier ordered Major General Baqeri to step up such assistance.
The Iranian military official appointed his deputy, Major General Ataollah Salehi, as the on-scene commander at the head of a group of high-ranking military chiefs to coordinate relief efforts between the Armed Forces and civilian organizations on the ground.
Heavy rains have pummeled Iran's Northern provinces of Mazandaran, Golsetan, North Khorasan and Semnan in the past couple of days, swelling floods that have forced evacuations and caused damages to infrastructures.
At least 70 villages in Golestan and more than 200 in Mazandaran are inundated. Aqqala is the worst hit where landslides have killed two people, director general of Golestan province's crisis management department Mojtaba Jamali said.
High water has forced evacuations of several small farm communities as all farmland has been swamped, according to local reports.
Footage from provinces of Golestan and Mazandaran showed massive flows of water running over roads and streets, with cars being washed away, people struggling to walk, and traffic being disrupted.
The flooding has claimed the lives of five people and destroyed hundreds of home over the past few days.
On Sunday, Iran's President Hassan Rouhani ordered Interior Minister Abdolreza Rahmani Fazli to mobilize all means in the affected and neighboring provinces to provide immediate relief aid to people.