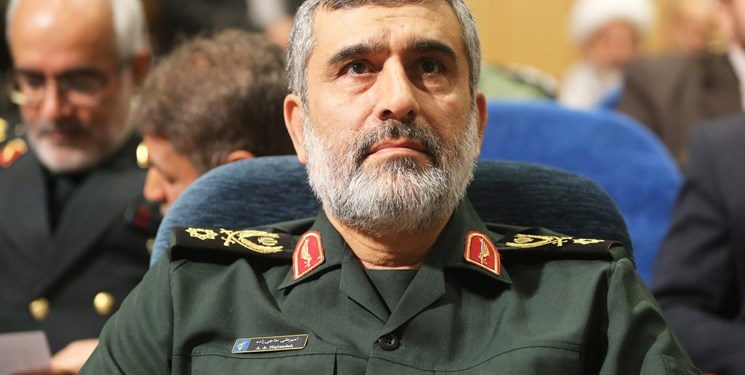 Commander of the Islamic Revolution Guards Corps (IRGC) Aerospace Force Brigadier General Amir Ali Hajizadeh underlined the need for the American forces to withdraw from all countries of the region.
"The cancerous tumor of the US should be removed from the region. While the Americans are in the region, they bring humiliation, insecurity and misery," General Hajizadeh told the Persian-language service of Tasnim news agency on Wednesday.
He underlined that Iran's struggle against the Great Satan (the US) will continue.
In relevant remarks in September, IRGC Commander Major General Hossein Salami said that the US has now been isolated in the world and is withdrawing from the region.
"Today the US, which has been exerting pressures to isolate Iran, has itself been isolated. The US has gradually lost its political influence in the region and the world and has been marginalized in the political developments and failed to score any victory in the battlefield," General Salami said, addressing Iranian lawmakers in Tehran.
He referred to the US role in the formation of ISIL terrorist group, and said Iran defused Washington's plots in this grand battlefield and prevented materialization of its political wishes to restructure the Middle-East politically.
"The US is now withdrawing while it is tired, worn-out and debilitated," General Salami said.
Also, last week, IRGC Spokesman Brigadier General Ramazan Sharif underlined failure of the US policies against Iran, and said that they have exhausted all ways to this end and are now empty-handed.
"The Americans do not have any more do list of actions against the Iranian nation and their hands are empty for more pressure against Iran," General Sharif said, addressing a ceremony in the Southern province of Hormuzgan on Sunday.
He added that US President Donald Trump who could force North Korea and China to sit to the negotiating table and misused certain regional states like milking cows, was wishing a phone call from Iran and now he is in the dustbin of history.
General Sharif said that despite all threats against Iran, Washington has not been able to put into practice those threats, adding that recently an ocean-going warship was built and delivered to the IRGC Navy to safeguard Iran's territorial waters more than ever.
Elsewhere, he referred to the Israelis' failures against Iran and the resistance front, and said they wanted to defeat the resistance front and disintegrate Syria but they failed and a great power was created in the regional Muslim states which has become a nightmare for them.