Iran
Middle East
North America
Qasem Suleimani
IRGC Commander: US to Leave Region
Lieutenant Commander of the Islamic Revolution Guards Corps (IRGC) Brigadier General Ali Fadavi voiced confidence that the US will withdraw its forces from the region.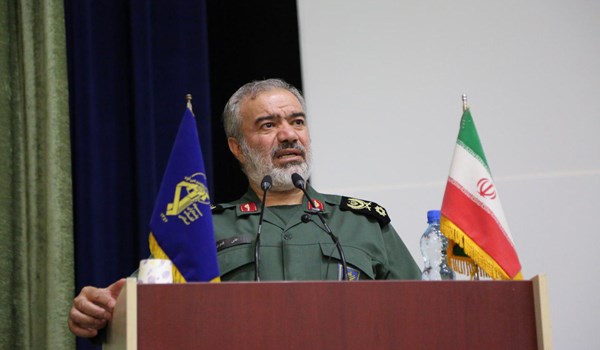 The US withdrawal from the region is "imminent and inevitable", General Fadavi said, addressing a ceremony in the Central province of Qom on Wednesday.
The hard revenge is the pullout of American terrorist forces from the region, he added.
In relevant remarks last month, former Commander of the Islamic Revolution Guards Corps Major General Mohsen Rezayee said the Islamic Resistance Front in the region will not give a break to its activities until a complete US pullout from the region.
"The nations of the Resistance Front have got closer than any time in the past and the activities of the Islamic Resistance Front will go on till the expulsion of American troops and forces from the region," said Major General Rezayee on Tuesday, on the sidelines of a ceremony for commemorating the hero of anti-terrorism fight in the region, Lieutenant General Qassem Soleimani, who was brutally assassinated by the terrorist army of the US at Baghdad International Airport on January 03.
The ex-commander highlighted the assassination as a historical turning point that has brought the two nations of Iran and Iraq, once again closer to one another.
He named General Soleimani and Deputy Head of PMF Abu Mahdi al-Muhandis as heroes of fighting terrorism and defending Islam and Quran as the common grounds between Iran and Iraq, and added that these commonalities have further solidified the ties between the two nations.
"It proves that Iran-Iraq ties are not based on interference in the internal affairs of one another but on friendship and brotherhood," he underlined.