Iran
IRGC Commander: US to Regret Sanctions against Iran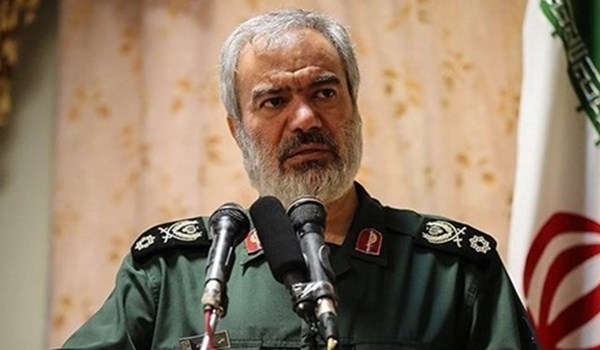 Islamic Revolution Guards Corps (IRGC) Deputy Commander for Coordination Rear Admiral Ali Fadavi downplayed impacts of the US sanctions against Iran, stressing that Washington will regret its moves as embargoes only strengthen Iran.
"They will regret their deeds in future similar to the past because they just force us not to rely on foreigners for resolving problems and try to solve them by means of domestic capabilities," General Fadavi said, addressing a ceremony in Tehran on Tuesday.
Elsewhere in his remarks, General Fadavi referred to the 33-day war (2006) by the US and Israel against Lebanon, and said, "They were afraid of Hezbollah right beside the occupied Palestinian lands but after the 33-day war 20 Hezbollah groups have been formed at their borders."
"Actually, they might have not witnessed creation of these groups next to the borders of the occupied territories had they not made the stupid attempt to annihilate the Lebanese Hezbollah group in the 33-day war," he said.
In relevant remarks last November, IRGC Top Commander Major General Mohammad Ali Jafari underlined that the US attempts to force the country to make concessions through sanctions and pressures were all doomed to failure.
"Studying the process of the US repeated failures against Iran, the Islamic resistance and the popular power of the Islamic Revolution indicates that the US plots implemented through economic sanctions will fail with the help of God and vigilant resistance of our people and officials," General Jafari said in Tehran.
Elsewhere, he addressed US President Donald Trump, and said, "Never threaten Iran."
General Jafari reminded Washington of the failure of the US military operations in the Tabas desert after its helicopters involved in Operation Eagle Claw in Central Iran back in 1980 were hit by a sandstorm and crashed as well as the IRGC seizure of two US Navy boats in 2016 in the Persian Gulf which had entered Iran's territorial waters in the Persian Gulf illegally, and said, "Therefore, do not threaten us militarily and do not scare us with military threat."