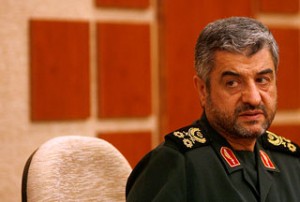 The Islamic Revolution Guards Corps has strongly dismissed remarks attributed to its commander on trial of defeated presidential candidates and certain other figures.
Al-Arabiya TV had quoted the IRGC commander Brigadier General Mohammad-Ali Jafari as saying that defeated presidential candidates Mir-Hossein Mousavi and Mehdi Karroubi and former President Mohammad Khatami and certain other figures should be put on trial.
"What has been quoted from the IRGC commander by foreign media was not authentic," said the IRGC in a statement on Sunday.
"The system of the Islamic Republic of Iran has determined legal ways to counter those who commit a crime. The judiciary will carry out its legal responsibilities," added the statement.