Iran
Middle East
IRGC Disbands Terrorist Team in Western Iran
The Islamic Revolution Guards Corps (IRGC) forces identified and dismantled a terrorist team in the Western province of Kurdistan.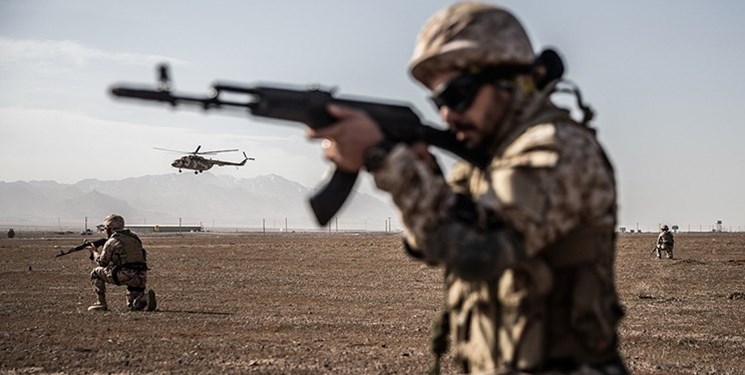 A statement by the IRGC's Beit ol-Moqaddas base in Kurdistan province said that an anti-revolutionary team was disbanded in clashes with the IRGC forces in Sarvabad region of Kurdistan province.
A number of anti-revolutionary terrorists were killed and wounded and a considerable amount of equipment and ammunition were seized by the IRGC forces during the operation, it added.
The terrorist team had entered Iran from the borders of Iraqi Kurdistan region with the intention of conducting acts of sabotage, the IRGC's statement said.
In a relevant development in July, the IRGC ground forces discovered and seized a large shipment of pistols from terrorists in Southeastern Iran.
The public relations office of the IRGC Ground Force's Quds Base announced in a statement that its forces have discovered and seized a shipment of weapons in the Southeastern region of Saravan in Sistan and Balouchestan province.
It added that 34 handguns with relevant ammunition were seized by the Quds headquarters forces in Saravan border region.
The statement also said that the terrorist groups intended to use these weapons to destabilize the region, but thanks to the vigilance of the IRGC forces, they failed to carry out terrorist and sabotage acts.
Also in July, the Iranian security forces had also dismantled a terrorist group affiliated to the Israeli spy agency, Mossad, and captured its members.
"A network of agents of the Zionist regime (Mossad) has been dismantled and captured along with a large shipment of weapons and ammunition after arriving at the western border posts of the country," the director-general of the Intelligence Ministry for Counter-Espionage Operation said.
Mossad operatives intended to use the equipment during riots in cities and towns and for assassination operations, he said, adding that during the presidential elections, the Zionist regime had also intended to carry out acts of sabotage in different parts of the country on several occasions, but it failed and the "terrorist Mossad" was given a heavy blow in the region.
"The seized weapons include pistols, grenades, Winchester shotguns, Kalashnikov assault rifles and bullets, some of which, like shotguns and grenades, are used to turn the protests into riots," the official said.