Iran
Middle East
North America
Qasem Suleimani
IRGC general says regional cooperation needed to expel US troops
A senior Iranian commander has called for regional cooperation to expel American forces from the Middle East and confront Israel.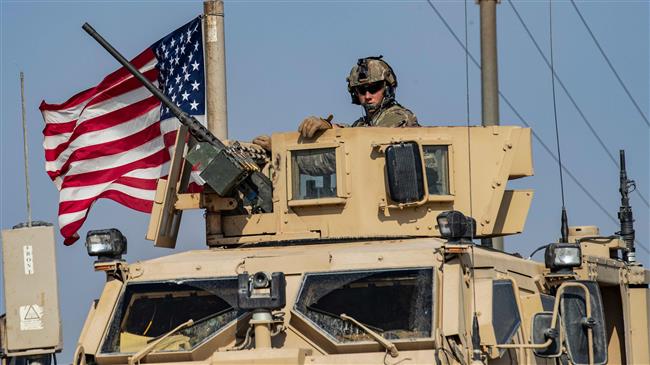 Brigadier General Amir-Ali Hajizadeh, the commander of the Aerospace Force of the Islamic Revolution Guards Corps (IRGC), told Yemen's al-Masirah TV that all US terrorist forces must be expelled from the Middle East.
"All countries of the Axis of Resistance are united, and we must join hands to kick American troops out of the region and annihilate the Zionist regime," he said.
The top general said the Axis of Resistance today is not limited to Iran. "Rather, the scope of the Axis of Resistance extends from the Red Sea to the Mediterranean and from Yemen's Ansarullah Movement to Lebanon's Hezbollah."
Calls for the expulsion of American forces have gained momentum since January 3, 2020, when Iranian General Qassem Soleimani and Iraqi PMU commander Abu Mahdi al-Muhandis were assassinated along with some of their comrades in a US drone strike.
Following the incident, Iraqi lawmakers unanimously approved a bill demanding the withdrawal of American troops.
The parliament resolution also urged the Baghdad government to drop a request for assistance from a US-led coalition of foreign troops purportedly operating against Daesh remnants in Iraq.
Iraqi lawmakers approve bill to expel US forces from countryThe lawmakers, in line with their national and regulatory responsibilities, singed the four-point draft.
Later on January 9, former Iraqi prime minister Adel Abdul-Mahdi called on the United States to dispatch a delegation to Baghdad tasked with formulating a mechanism for the move.
In later January, thousands of Iraqi people rallied in Baghdad call for an end to US military presence. The protesters were seen carrying banners and chanting slogans calling for the expulsion of US forces.
US President Donald Trump has threatened to sanction Iraq "like they've never seen before ever" if Baghdad tried to expel US troops.
Based on reports by the Wall Street Journal, the US administration has threatened to shut off Iraq's access to its main account at the Federal Reserve Bank of New York, which is used to collect revenues from the Arab country's overseas oil sales, if Baghdad expelled the American forces.