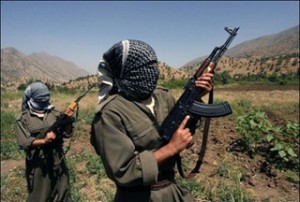 A senior Iranian commander says the Islamic Revolution Guards Corps (IRGC) has inflicted "fatal damage" on PJAK militants.
"In a serious clash, the counterrevolutionary group of PJAK sustained fatal damage," IRNA quoted Brig. Gen. Yadollah Javani, the Head of the IRGC political bureau, as saying on Wednesday.
PJAK, an offshoot of the Kurdistan Workers' Party (PKK) which is listed as a terrorist group by the international community, has been carrying out terrorist attacks against Iran, mainly in the country's western and northwestern border areas.
Javani said that the Kurdish militants use the Iraqi and Turkish territories to organize their attacks against Iran.
"One of the goals behind the US occupation of Iraq was to destabilize Iran and to mount pressure on it," the IRGC commander noted.
The Iranian commander did not mention any details about the operations.