Iran
IRGC Intelligence Chief Reinstated for Another Term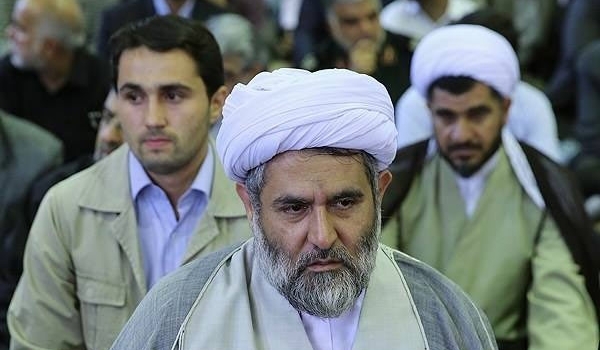 Hojjatoleslam Hossein Taeb will serve as the Head of the Intelligence Department of the Islamic Revolution Guards Corps (IRGC) for another term, and Brigadier General Hassan Mohaqqeq was appointed to serve as the new deputy head of the department.
IRGC's top Commander Major General Hossein Salami, in a ceremony on Saturday morning, publicly announced the appointments in the Intelligence Department of the elite force, reinstating Hojjatoleslam Taeb for another term and replacing Brigadier General Hossein Nejat with Brigadier General Mohaqqeq.
Gen. Nejat was also appointed as the IRGC deputy commander for social and cultural affairs.
The changes are coming after Major General Salami replaced Major General Aziz Jafari as the chief of the IRGC in last month.
Back on April 21, Supreme Leader of the Islamic Revolution Ayatollah Seyed Ali Khamenei promoted IRGC Lieutenant Commander Brigadier General Hossein Salami to the rank of Major General and appointed him as the top commander of the Islamic Revolution Guards Corps after Major General Mohammad Ali Jafari's two five-year terms ended.
Ayatollah Khamenei praised Maj. Gen. Jafari's decade-long service in the post, and said, "Considering Maj. Gen. Mohammad Ali Jafari's statement on the necessity of change in IRGC's (top) command,… and given your valuable experience and competence in fulfilling high-level management and various responsibilities in the revolutionary, Jihadi and popular institution of the IRGC, I promote you to the rank of Major General and appoint you as the top commander of the Islamic Revolution Guards Corps."
The Leader asked the new top commander to continue the path of Maj. Gen. Jafari and enhance the IRGC's all-out capabilities and preparedness in all sectors, develop spirituality and expertise and boost cultural promotion.
Then on Thursday, Ayatollah Khamenei named some commanders in new positions at the IRGC in a series of new decrees.
The Supreme Leader appointed Rear Admiral Ali Fadavi as lieutenant commander of the IRGC and Brigadier General Mohammad Reza Naqdi as the deputy commander for coordination of the country's military force.
Ayatollah Khamenei, who is also the commander in chief of the armed forces, in his order, appreciated these commander's valuable efforts in their previous posts.
He also expressed hope for boosting IRGC's all-out potentials and its readiness in all fields.
Rear Admiral Fadavi was the IRGC deputy commander for coordination and Brigadier General Naqdi was the commander of Iran's Basij (volunteer) Force previously.