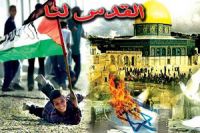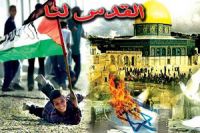 Iran's Revolutionary Guard Corps (IRGC) has insisted ideals of Palestine through Resistance and the way to reinstate the trampled rights of the Palestinian people.
According to ISNA, IRGC has issued a statement, calling on the Iranian nation to participate in the International Quds Day rallies on Friday.
The statement read that certain treacherous moves are currently active to dampen and extinguish the enthusiastic flames of the Resistance and give a kind of legitimacy to the Zionist occupation regime. However, it added, the attempts would not help them to weaken the pillars of Palestine's Resistance and would only make the Zionist regime and its supporters more hatred in the eyes of the world public and also much weaker and isolated than before.
IRGC also in the statement touched upon the developments in the region, especially in Egypt, and regretted that despite the great wave of Islamic Awakening movements in the region and gaining of new grounds by the Islamists in the regional countries, new wave of insecurity, instability, and even war has been clicked by ill-wishers of the revolutions.
The statement also underlined vigilance and due, strategic management vis-à-vis ploys hatched by the enemies of Islam, terming the conditions in Egypt as very painful and a source of concern.