Iran
IRGC Manufactures Fogging Vehicle to Disinfect Environment against Coronavirus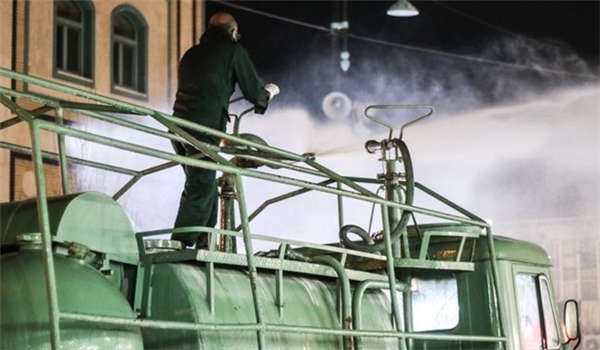 The Islamic Revolution Guards Corps (IRGC) Ground Force experts have developed a fogging system mounted on a vehicle to disinfect the public places to prevent further coronavirus epidemic.
"Designing and building of the first prototype fogging system mounted on vehicles has ended in the IRGC Ground Force," Brigadier-General Qorban Mohammad Asha'ari, an official at the IRGC Ground Force's Operation Department, said on Wednesday.
"The system is equipped with a turbo fan to conduct disinfecting operations in the environment," he added.
General Asha'ari said that earlier the IRGC had mounted water tanks and high-pressure pumps on vehicles to disinfect the public places.
The Iranian Armed Forces, specially the IRGC, have helped the government in fighting against the coronavirus since the very first day of its outbreak.
A top Islamic Revolution Guards Corps commander announced in April that 10,000 IRGC physicians, nurses, and specialists have rushed to the frontline of fighting the coronavirus.
"Nearly, 10,000 specialized treatment staff of the IRGC Ground Force across the country have been mobilized to continue fight against the coronavirus or they are cooperating with the universities of medical sciences and the 10 IRGC Ground Force's treatment bases across Iran," Commander of the IRGC Ground Force Brigadier General Pakpour said.
He added that field hospitals of the IRGC Ground Force with 3,000 beds are ready to treat the patients infected with COVID-19 virus, noting that all hospitals of the force are prepared to fight against coronavirus.
"Nearly 60,000 masks, 57,000 pairs of gloves and 4,100 protective gears for medical staff have been produced in the IRGC Ground Force's workshops," General Pakpour said.