Iran
IRGC Navy in Possession of New Long-Range Missile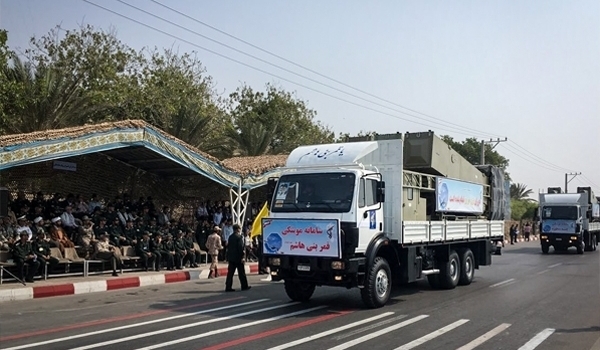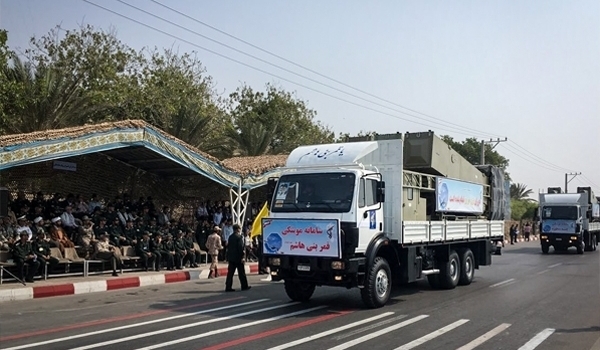 The Islamic Revolution Guards Corps (IRGC) Navy has been supplied with a new long-range coast-to-sea missile capable of hitting different sea targets.
The missile which was displayed on a mobile launcher vehicle during the September 21 annual military parades in Iran, is named as 'Qamar-e Bani Hashem'.
Elaborating on the new weapon system, Lieutenant Commander of the Islamic Revolution Guards Corps Navy General Alireza Tangsiri said it is a long-range missile.
"The missile is currently fired from coastal launchers, but they may also be mounted and fired from vessels in the near future," he said.
Tangsiri didn't reveal the range or any other specifications or features of the missile.
Earlier this year, Iranian Defense Minister Brigadier General Hossein Dehqan announced the country's plan to produce supersonic anti-ship cruise missiles in the near future.
"We have been able to increase the missiles' speed and God willing, we will build supersonic anti-ship cruise missiles in the near future," General Dehqan said in August.
Stressing that Iranian experts have taken long strides to develop cruise missiles, he said that the country has doubled or tripled the range of its missiles, mounted state-of-the-art guiding systems on them and increased their precision-striking power.
Lieutenant Commander of the Iranian Navy Rear Admiral Gholam Reza Khadem Biqam announced in May that Iran is moving ahead with a large scale navy modernization program for wider presence in the high seas.
Speaking to FNA in the Northern city of Rasht at the time, Khadem Biqam said the new warships will be self-sufficient, bigger and equipped with the latest state-of-the-art technology.
"Iran plans to improve its naval resources in order to have a bigger presence in international waters," he added.
Earlier, in November 2015, Iranian Navy Commander Rear Admiral Habibollah Sayyari announced that the country's submarines have been equipped with the capability to fire home-made long-range Qadir cruise missiles.
"The missiles that we are using today are good and proper missiles to fulfill different missions, including coast-to-sea or surface-to-surface missions, or to be fired from a vessel or by submarines," Sayyari said, addressing a ceremony to mark delivery of a large number of high-precision and long-range Qadir cruise missiles from the defense ministry to the Navy.
Last year, the IRGC launched the production line of 'Qadir' cruise missiles in a ceremony participated by General Dehqan and other high-ranking Iranian commanders.
Addressing the ceremony, General Dehqan said Qadir missiles can be rapidly deployed to show reaction in a short time, while they enjoy other capabilities such as low flying altitude, high navigation precision, high targeting precision, high destruction power, highly advanced anti-electronic warfare and anti-jamming systems, advanced radar systems and the capability of being fired from different types of vessels and helicopters.
Stressing that the Iranian defense ministry stands atop the region in manufacturing different types of home-made missiles, he said, "The high precision, rapid reaction and high quality of these important products have incredibly increased the Armed Forces' combat power in the sky, sea and ground."
Dehqan appreciated the Iranian scientists and elites for designing, building and mass-producing Qadir missiles which can hit targets 300km in distance, and said, "God willing, the Defense Ministry's new missiles with much more advanced capabilities will be delivered to the Armed Forces next year."