Iran
IRGC Navy Wraps Up Massive Wargames in Iran's Southern Waters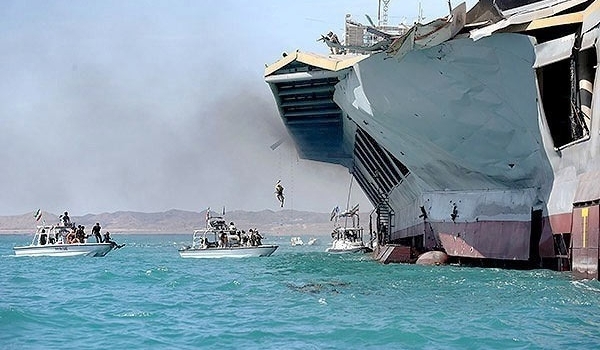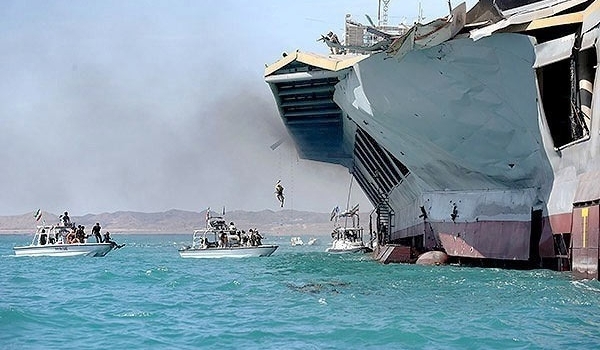 The Islamic Revolution Guards Corps (IRGC) Navy ended massive wargames, codenamed Payambar-e Azam 9 (The Great Prophet 9), in the Persian Gulf and the Strait of Hormuz on Friday.
Speaking to reporters in the Southern Iranian port city of Bandar Abbas on Friday, Commander of the Islamic Revolution Guards Corps Navy Rear Admiral Ali Fadavi said that the IRGC's massive wargames ended after three days in Southern Iran after testing a strategic weapon.
"This new weapon plays a determining role in increasing Iran's naval power to confront the threats, specially by the US, against the Islamic Revolution.
The massive exercises started after IRGC Commander Major General Mohammad Ali Jafari issued the order and in the presence of other high-ranking Iranian officials and military commanders, including Parliament Speaker Ali Larijani, Deputy Chief of Staff of the Iranian Armed Forces Major General Gholam Ali Rashid, Commander of the IRGC Aerospace Force Brigadier General Amir Ali Hajizadeh, Lieutenant Commander of the IRGC Brigadier General Hossein Salami, Commander of the IRGC Ground Force Brigadier General Mohammad Pakpour, Deputy Chief of Staff of the Armed Forces Brigadier General Baqeri and IRGC Navy Commander Rear Admiral Ali Fadavi.
Different IRGC Navy vessels are being used in the exercises staged in the Persian Gulf and the Strait of Hormuz.
Tens of IRGC vessels started high-speed mine-laying operations in a short period of time to get ready for critical situations in times of possible threats.
Fadavi described Iran's "mine-laying" capability as "the most important concern of the Americans", and said, "We have the most advanced sea mines which cannot be imagined by the Americans."
In recent years, Iran has made great achievements in its defense sector and attained self-sufficiency in producing essential military equipment and systems.
Iranian officials have always stressed that the country's military and arms programs serve defensive purposes and should not be perceived as a threat to any other country.
Iran's naval power has even been acknowledged by foes. In a Sep. 11, 2008 report, the Washington Institute for the Near East Policy said that in the two decades since the Iraqi imposed war on Iran, the Islamic Republic has excelled in naval capabilities and is able to wage unique asymmetric warfare against larger naval forces.
According to the report, Iran's Navy has been transformed into a highly motivated, well-equipped, and well-financed force and is effectively in control of the world's oil lifeline, the Strait of Hormuz.
Since November 2008, the Iranian Navy has also conducted anti-piracy missions in the Gulf of Aden and Bab el-Mandeb Strait to protect the country's cargo ships and oil tankers against pirates.