Iran
IRGC Quds Force Advisor: Iran Has 14 Underground Missile Depots, Automatic Launchers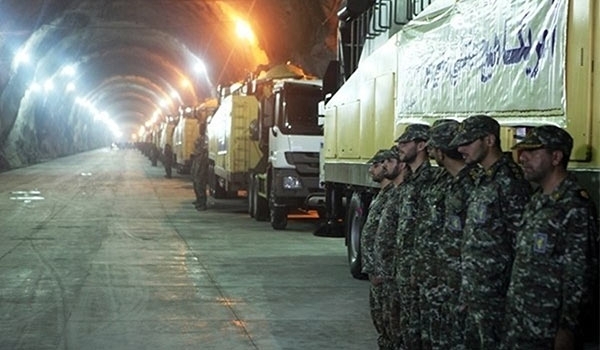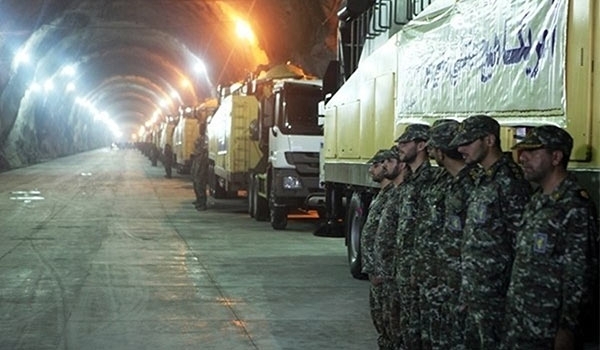 A senior advisor to the Islamic Revolution Guards Corps (IRGC) Quds Force commander announced on Thursday that Iran is in possession of 14 missile depots in the depth of 30m to 500m under the ground that are equipped with automatic launchers.
"The Islamic Republic of Iran has 14 underground depots in the depth of 30m to 500m," Brigadier-General Karimpour said on Wednesday.
He warned that any country that dares to attack Iran will be riddled with missiles fired from these depots in large numbers automatically.
His remarks came after Iran's recent unveiling of a deep underground tunnel facility packed with missiles and launcher units a few days after the country tested a new long-range missile.
After unveiling the underground depot for the first time, Lieutenant Commander of the Islamic Revolution Guards Corps (IRGC) Brigadier General Hossein Salami said, "That was one of our oldest stockpiles and we haven't yet shown our modern missile depots, where missiles with big cross sections have been stockpiled."
On October 11, Iran successfully test-fired the country's new precision-guided long-range ballistic missile that can be controlled until the moment of impact. Emad carries a conventional warhead.
"This missile (Emad) which has been fully designed and made by Iranian Defense Ministry's scientists and experts is the country' first long-range missile with navigation and strike controlling capability; it is capable of hitting and destroying the targets with high-precision," Iranian Defense Minister Brigadier General Hossein Dehqan told reporters after the successful test of Emad missile.
The Iranian Defense Minister reiterated that the manufacture and successful testing of Emad missile is a technological and operational jump in a strategic field, and said, "We don't ask for anyone's permission for boosting our defense and missile power; we resolutely continue our defense programs, specially in the missile field, and Emad missile is a conspicuous example."
General Dehqan felicitated Supreme Leader of the Islamic Revolution Ayatollah Seyed Ali Khamenei, Iranian Armed Forces and the Iranian nation on the successful testing, and appreciated the scientists and experts of the Aerospace Industries Organization of the Defense Ministry.
The Iranian Defense Minister reiterated that the mass production and delivery of Emad missile to the country's Armed Forces will considerably increase their power and tactical capabilities.
The Iranian Armed Forces have recently test-fired different types of newly-developed missiles and torpedoes and tested a large number of home-made weapons, tools and equipment, including submarines, military ships, artillery, choppers, aircrafts, UAVs and air defense and electronic systems, during massive military drills.
Defense analysts and military observers say that Iran's wargames and its advancements in weapons production have proved as a deterrent factor.
The Iranian officials have always underscored that the country's defense program cannot be affected by the nuclear deal clinched between Iran and the world powers on July 14 and the UN Security Council resolutions.