Iran
Middle East
IRGC Seizes Foreign Vessel Smuggling Fuel in Persian Gulf
The Islamic Revolution Guards Corps (IRGC) Navy seized a foreign ship carrying smuggled fuel near the town of Parsian in the Persian Gulf.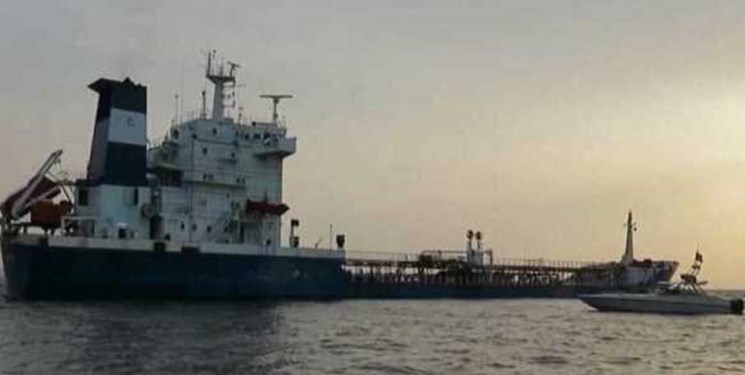 Commander of IRGC's 412 Zolfaghar Parsian Regiment in Parsian town Colonel Ahmad Hajian said that after monitoring data in an integrated operation a foreign ship with 11 crew was seized in Iran's territorial waters.
"After inspecting the ship, 150,000 liters of smuggled fuel was seized and all the 11 members of the foreign crew were handed over to judicial offices of Parsian," Colonel Hajian said.
The IRGC commander underscored that the 412 Zolfaghar Parsian Fotilla will decisively encounter any fuel smuggling in the sea for the support of Iran's economy.
In a relevant development in late November 2020, the IRGC Navy announced that it has impounded a foreign vessel in the Persian Gulf for smuggling over 300,000 liters of fuel from Iran.
The IRGC announced in a statement that in order to protect the waters under the rule of the Islamic Republic of Iran in the Persian Gulf, the IRGC forces of Zolfaqar Parsian regiment 412, with intelligence superiority and timely action, seized a foreign vessel with Panamanian nationality in the geographical area of the unit's operational zone in the Persian Gulf, while it was loading the smuggled fuel.
It added that the vessel was carrying over 300,000 liters of smuggled fuel of gas oil.
Fuel, specially diesel, is illegally moved out of Iran through cities bordering Afghanistan, Pakistan, and Turkey, as well as the ports at the Persian Gulf.
It was estimated last year that between 7 million to 10 million liters of petrol and diesel were smuggled out of Iran every day but the amount has decreased after tightened measures at the bordering areas as well as rationing.