Iran
IRGC Seizes Illegal Weapons Shipment in Northwestern Iran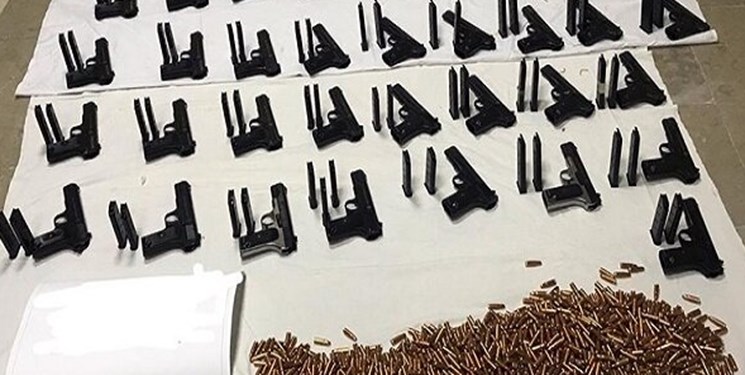 The Islamic Revolution Guards Corps forces have seized a shipment of illegal weapons in the Northwestern province of West Azarbaijan, an IRGC statement said.
"Some weapons and two vehicles were seized from arms traffickers at the border areas of Orumiyeh city, the capital of West Azarbaijan," the IRGC said.
"The counter-revolutionary armed groups were trying to deliver these weapons to the elements affiliated with them with the aim of harming security and stirring riots inside the country," it added.
The IRGC statement pointed out that three individuals have been arrested in the operation against the arms traffickers and have been handed over to judicial authorities.
In a relevant development in late November, Iranian Law Enforcement police forces disbanded a terrorist team in Khuzestan province in the Southwestern parts of the country, seizing a cache of weapons and ammunition.
The Law Enforcement police said in a statement said that the members of a terrorist team had attacked a patrol vehicle at a police station in Shadegan City in July.
Following the intelligence activities of the police forces of the Khuzestan province, all three members of the terrorist team were identified in Shadegan city and were arrested during a series of operations in their hideouts, it added.
The statement said that the police forces seized three guns and significant amounts of explosives and ammunition in the terrorists' hideouts.
In the terrorist attack in Shadegan city in July, one of the police forces was martyred.
Reports said earlier this month that security and intelligence forces in Iran dismantled 78 gangs in the first 6 months of the current Iranian year (started on March 21) which smuggled weapons and ammunition to the country.
During the operations, 2,170 weapons, including 473 guns, 685 hunting weapons, 782 small arms and 230 other types of weapons were discovered and 201 people were arrested and handed over to the judicial authority.
In the latest related development in September, the Iranian intelligence forces confiscated a weapons cargo in Khuzestan province.
Iranian security forces identified and dismantled an anti-security group in Southwestern Iran.
Dozens of weapons were seized in the operations which were carried out in the Southwestern border region of Khuzestan Province.