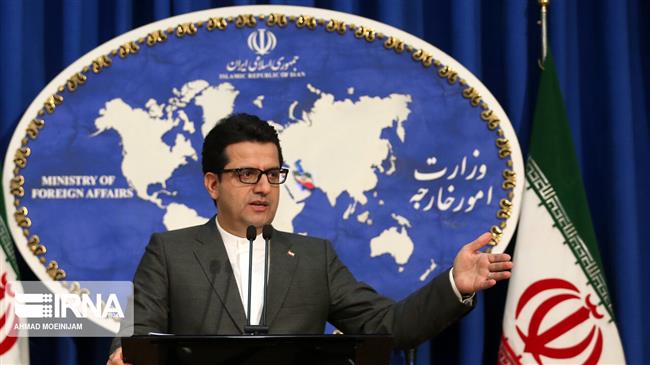 The Islamic Revolution Guards Corps (IRGC) took a "necessary step" to strike a US base in Iraq last month in response to the assassination of Lieutenant General Qassem Soleimani, says the spokesman for Iran's Foreign Ministry.
"What we have done was one but a necessary step. It was in fact a slap in the face of the Americans," Abbas Mousavi said in an interview with Croatian daily newspaper Vecernji list on Tuesday.
"For years no one had the capability and courage to carry out such an action. We saw that Iran showed a severe reaction and hit one of the most important US bases in West Asia," the Iranian official added.
On January 8, the IRGC fired volleys of ballistic missiles at Ain al-Assad military base in the western Iraqi province of Anbar.
Five days earlier on January 3, US terrorist forces had assassinated General Soleimani, the commander of the Quds Force of the IRGC, and the second-in-command of Iraq's Popular Mobilization Units (PMU), Abu Mahdi al-Muhandis, as well as a group of their companions in Baghdad.
IRGC targets US airbases in Iraq in response to assassination of General SoleimaniIran's Islamic Revolution Guards Corps (IRGC) has targeted US airbases in Iraq.
The assassination was carried out upon the direct order of President Donald Trump, with the Pentagon taking responsibility for the strike.
General Soleimani is viewed by the world's freedom-seeking people as the key figure in defeating Daesh, the world's most notorious Takfiri terrorist group, in the Middle East battles.
The Iranian spokesman said Soleimani's assassination was a great loss as many people in several countries, including the United States, expressed sympathy.
Asked whether Iran would consider more measures to retaliate, Mousavi said nothing can make up for Soleimani's martyrdom as "he was a soldier of peace."
He added that Iran responded with its domestically-manufactured missiles. "But after the assassination of General Soleimani, the world will see less peace because his presence had hindered acts of terror by various groups and this was also important for international security."
The Iranian diplomat noted that terrorist groups conducted far fewer attacks in Europe after General Soleimani and his companions started to fight Daesh.
In the wake of the assassination, Daesh terrorists once again got an opportunity to resume their acts of terror and disrupt global security, Mousavi pointed out.
In an exclusive interview with Lebanese Al-Mayadeen news network on Monday, the IRGC Chief Commander Major General Hossein Salami said the Iranian missile strike on the US base was a defensive act of a strategic, legitimate nature.
IRGC chief: Iran's missile strike on US legitimate defense, strategic in natureIran
"The measure we took against the Americans was totally defensive. It was a legitimate defense, a legal defense, [and] a right, which we had to claim," Salami said.