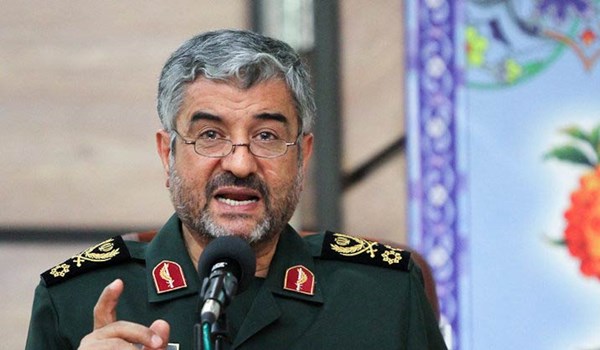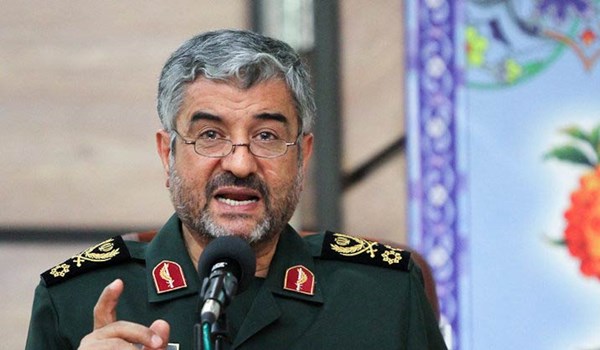 Commander of the Islamic Revolution Guards Corps (IRGC) Major General Mohammad Ali Jafari underlined that the US attempts to force the country to make concessions through sanctions and pressures are all doomed to failure.
"Studying the process of the US repeated failures against Iran, the Islamic resistance and the popular power of the Islamic Revolution indicates that the US plots implemented through economic sanctions will fail with the help of God and vigilant resistance of our people and officials," General Jafari said in Tehran on Sunday, addressing the Iranian people and students participating the nationwide rallies to mark the anniversary of the US embassy takeover in 1979 and commemorate the National Day of Campaign against Global Arrogance and the National Student Day.
Elsewhere, he addressed US President Donald Trump, and said, "Never threaten Iran."
General Jafari reminded Washington of the failure of the US military operations in the Tabas desert after its helicopters involved in Operation Eagle Claw in Central Iran back in 1980 were hit by a sandstorm and crashed as well as the IRGC seizure of two US Navy boats in 2016 in the Persian Gulf which had entered Iran's territorial waters in the Persian Gulf illegally, and said, "Therefore, do not threaten us militarily and do not scare us with military threat."
On January 12, 2016, nine men and one woman from the US Navy strayed into the Iranian territorial waters near the Farsi Island in the Persian Gulf. They were immediately captured by IRGC Navy.
Their boats were equipped with 50mm caliber machine guns and other light and semi-heavy weapons. Many regional analysts have also praised the IRGC's brave reaction to the US aggression.
The IRGC freed the 10 later and after it was proved that the US marines had strayed into Iranian waters only due to the failure of their navigation devices and equipment.