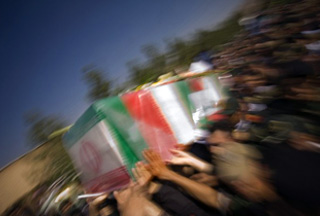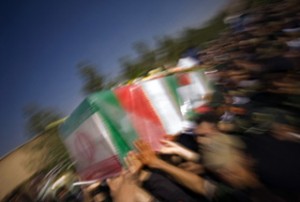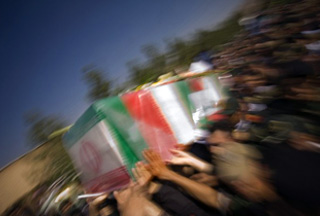 Iran's Islamic Revolution Guards Corps (IRGC) says the force is able to gather intelligence on terrorist groups operating from outside the country.
"We have the means to gather intelligence on any terrorist group terrorizing Iranian citizens from outside Iran," Revolutionary Guards chief General Mohammad Ali Jafari said on Tuesday.
Jafari, however, added that this has been made possible through 'the assistance of Muslims outside the country who have the Islamic republic's interests at heart'.
On October 18, at least 41 people including top commanders of IRGC were killed in an explosion during a unity conference between Sunni and Shia tribal leaders in the borderline city of Pishin.
The Pakistan-based Jundullah terrorist group has claimed responsibility for the bomb blast.
The Iranian commander took a swipe at Pakistani officials who 'have chosen silence in the face of plausible evidence confirming that Rigi has been assisted by the country's intelligence'.
Jafari further repeated Iran's requests from the government in Islamabad to extradite those responsible for terrorizing Iranian nations.
The commander of IRGC Ground Forces, Brigadier General Mohammad Pakpour, on Monday indicated that the military is preparing short-term and long-term plans to confront those behind a recent terror attack in Iran.
Pakpour said the IRGC plans to pass intelligence to the authorities in neighboring countries to help them capture terrorists fleeing Iranian territory.
However, the IRGC commander added, "Due to the current security situation, the plans cannot be made public."
"The IRGC has tracked them down" but the onus is on neighboring states to deal with the terrorists, he said.
Jundullah, which operates in Iran's Sistan-Baluchistan and Pakistan's Baluchistan provinces, has carried out a number of attacks against high profile Iranian targets, especially the government and security officials.
An ABC News report in 2007 reported that the Jundullah terrorist group 'has been secretly encouraged and advised by American officials' to destabilize the government in Iran.
In another report in July, investigative journalist Seymour Hersh revealed that US Congressional leaders secretly agreed to George W. Bush's $400-million funding request last year for a major escalation of covert operations against Iran.
It is through such covert funding that the US arms and funds terrorist groups such as the Mujahedin-e Khalq Organization (MKO) and Jundullah.
Other US intelligence agencies, such as the CIA, have their own secret and separate budgets to fund destabilizing operations against Iran and other nations that do not submit to America's will.
The group's ringleader, Abdolmalek Rigi, describes his terrorist cell as a 'nationalist movement' and denies any links to Washington. However, many Sunni Baluchis were among those killed in the recent terrorist attack by Rigi's followers.
Meanwhile, tribal leaders in the city of Sarbaz in Sistan-Baluchistan province staged demonstrations in condemnation of the deadly blasts in the city.
The protestors shouted slogans against the United States and the terrorist cell of Abdolmalek Rigi.