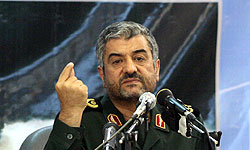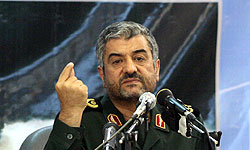 Commander of the Islamic Revolution Guards Corps (IRGC) Major General Mohammad Ali Jafari here on Monday vowed that his forces would retaliate against the Sunday terrorist attack in the country's southeastern province of Sistan and Balouchestan.
"Action should be taken to confront the elements behind this terrorist incident in an appropriate and retaliatory manner," Jafari announced on Monday.
A man carrying explosives blew himself up Sunday as participants headed to a unity conference between Shiite and Sunni groups in southeastern Iran, killing at least 42. The blast in the city of Sarbaz, in Sistan and Balouchestan, wounded 28 others.
Lieutenant Commander of the Islamic Revolution Guards Corps (IRGC) ground force Brigadier General Nourali Shoushtari, Sistan and Balouchestan province's IRGC commander General Mohammadzadeh, Iranshahr Corps commander, Sarbaz Corps commander and Amiralmoemenin Brigade commander were among the martyrs of the terrorist attack.
The Pakistan-based terrorist group Jundollah, headed by Abdolmalek Rigi, has claimed responsibility for the deadly attack.
Reminding the US, Britain's support for the Rigi group, Jafari noted, "(Iran's) Intelligence apparatus has presented evidence and documents which prove that the evil group of Rigi is backed up and protected by the US, British and, unfortunately, the Pakistani intelligence agencies and that it (the Rigi group) carries out its plans at their orders."
The commander said that a delegation from Iran is scheduled to visit Pakistan in a bid to present the aforementioned evidence and documents to Islamabad.