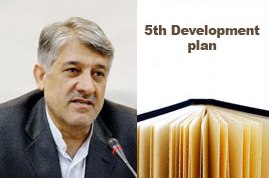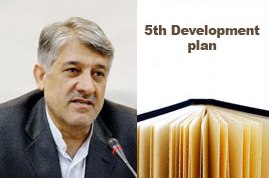 On the basis of the Fifth Development Plan, the economy of the Islamic Republic of Iran will enjoy 8 percent from the average economy growth. Inflation will reach up to 12 percent during the years of 2010 and 2014.
"The bill of the Fifth Development Plan in the field of economy, social and cultural affairs will present to the Majlis on September 22," Deputy head of planning at the Presidential Strategic Planning and Supervision Office, Seyyed Mohammad Qasem Hosseini told IRIB on Sunday.
About the privileges of the Fifth Development Plan, Hosseini said," The main approach of the plan which is consisting economy, social, political and cultural issues from 2010 to 2014, is on the basis of 'progress based on justice'."
Hosseini termed the main approaches of the Development Plan in economy section, increasing the role of private sector in national economy, raising the shares of cooperative section by 25 percent of the whole economy activities and government's support to non-governmental sectors.
"It is predicted on the basis of economy quantitative and general indexes, the government would create 990,000 jobs annually and decline the unemployment rate to 7 percent," Hosseini reiterated.
He said that the average rate of economy growth which was predicted 7 percent for the first year will reach to 9.25 percent by the end of Fifth Development Plan.